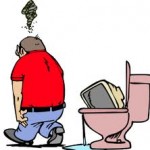 Have you ever spent hours of frustration trying to resize a photo in your Mac's iPhoto down to Avatar size?  Yesterday I was trying to fill in my Profile in a Forum I'd just joined.  I tried to upload a photo of myself for my Avatar. They had a pixel limit of 100×100 pixels, and no matter how I cropped and saved and uploaded, this site's software stubbornly refused to upload my edited photos. I tried doing it in iPhoto itself, but the size adjustment was already on the smallest setting.
Here's What Didn't Work
First I tried to use my Gravatar – you do have a Gravatar….don't you!  I've never had any problems using Gravatar before, and I've been posting comments on lots of other forums and websites.  Why? Because posting comments on other people's websites is a good method of generating traffic back to your own site.  But this particular Forum had some weird, antiquated software for uploading that I've not seen anywhere else before – and it didn't do a good job!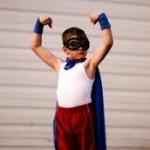 Tip for young players: when something you are trying to do online, refuses to do what you want it to do, blame the software.  That's what I do. Why? It preserves your self-esteem, and allows you to sail serenely on, with supreme, super-hero-self-confidence in your tireless pursuit of … Living the Dream!….. for example, making a bundle online, and retiring to a tropical island (substitute personal dream of choice here).
OK, if you haven't been paying attention and following my advice and instructions in How to Add a Photo to Your Online Comments, consider yourself noticed…..and go to Gravatar.com at your earliest opportunity.  Make some Avatars/Gravatars, and start adding Authority to your online comments – it's a free Gravatar service and in most forums and websites, and it works a treat.
Note to self: Focus!! Quite right.
So yesterday I gave up the photo shrinking struggle, but today I started researching how to resize photos in Mac iPhoto – because no one wants to be defeated by a machine, and… I saw an opportunity to help out my readers in case they ever run up against this same problem.  Here is what I learned – and yes, this works.
Step By Step Instructions How to Resize Photo Sizes in iPhoto

Select your photo in iPhoto by clicking on it
Select 'Export' from the drop down menu: iPhoto > File > Export
Select Maximum Quality
Select 'Custom' from the iPhoto 'Size' option (not the large, medium or small)
Set the dimensions in pixels you need in the Height, Width, or Dimensions text box
Click Export, and on the next screen select somewhere on your computer outside iPhoto where you want to export it to.  For example, to Documents or Desktop.
it's now saved as a .jpg file format where you chose to save it, and can be found in Finder.
Sometimes, the actual dimensions that turn up in your saved jpg file, are still not exactly right for wherever you want to use this photo.
Keep calm….you can still fine tune it.
How to Shrink Photos using Mac's Preview App
Open this jpg copy using Apps>Preview – just clicking on it should automatically open it in Preview
Go to Preview > '

Tools'

in the top line menu
Select '

Adjust Size

' from drop down menu
Choose the pixel size/dimensions you want – some avatar uploads limit size to 100×100 pixels max
Go to File > Save
If you haven't opened this jpg photo for a while, you might now be shown an option box which tells you that this jpg file is 'locked' with an option to Unlock it.
Click Unlock.
Choose '

Duplicate copy

' from the options because that gives you the option of increasing the quality of your resized photo at the next step, and gives you a spare copy if you stuff up.
Then adjust quality slider to Max – resolution tends to deteriorate with cropping and/or shrinking so when cropping, resizing, or shrinking photos, use the highest quality possible
Save – all done.   Congratulations!
Alright!  Time for a treat! 
Hint: rewarding yourself for your achievements, saves you waiting around for others to do it for you. That always works for me.
Carpe Deum, friends!  Carpe Deum……
           Cue Motto

……

Plan Well. Start Small Think BIG!

And…have you signed up for our Newsletter yet?  If you found this post useful and interesting, make sure you never miss out on updates and the latest news – Subscribe to Newsletter – it's easy and it's free.