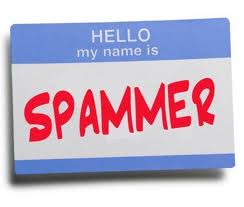 Are Spam Comments driving you crazy!  Or, are you thinking, Why Don't I See My Comment On Your Blog?  Where Did My Comment Go? Hey, why don't you publish my Comments?
All these are questions that all have the same answer – your Comment was not published because it was….SPAM!! Yes, SPAM! Aaaah!  Why do people waste their time with this rubbish?   Well, there could be several reasons.  Mostly these Spam Comments are just an excuse to try to get a link into the blog's site.  It seems that some people think we blog owners are idiots, and will not realise that mindless, no-content, generic Comments are Spam – misguided attempts to try get more visitors back to their own website through their included link – but that will NEVER work.
Are these spammers slow learners, or what?   You would think that after making hundreds of no-content spam Comments that never get published online, they would realise that this 'tactic' does not work – and will never work.
Another reason might be that these so called 'Comments' are being generated automatically by spamming software.  But, if the blog owner has some sort of Spam protections such as
Akismet (you can get it free HERE) plus a Captcha Comment software gate that Commenters must get through before Commenting, then those that do get through those first line of defenses, must be humans (I use the term loosely 

).
Which makes me wonder why these spammers think that their attempt to get their website link approved and published online in their Comment might actually work.
The only reason I can think of is that they don't realise that their Comments are actually spam.
So….. I will try again to explain what makes a Comment a Spam Comment, and then explain what is a Brilliant Comment which will definitely appear online – with your bright shiny link back to your website – and the blog owner will love you….hopefully.
10 Examples of Spam Comments That Will Never Ever Get Published Online
Great blog!
I stumbled on your blog and will definitely bookmark your site.
Hi to all, how is all, I think every one is getting more from this site, and your views are pleasant in   support of new viewers.
What's up it's me, I am also visiting this website on a regular basis, this site is in fact good and the users are reaally sharing good thoughts
Its like you read myy mind! You appear to know so much approximately this, such as yoou wrote the ebook in it or something.
Wonderful goods from you, man. I've understand your stuff previous to and you're
just too great.
Great delivery. Solid arguments. Keep up the good work
It's great that you are getting ideas from this post as well as from our dialoguee made here.
Thanks for ones marvelous posting! I actually enjoyed reading it, you're a great author. I will make certain to bookmark your blog and may come back from now on. I want to encourage you to definitely continue your great work, have a nice evening!
For latest newss you hage to pay a quick visitt web and oon web I found this site ass a most excellent website for latewt updates
These 10 so called Comments are skimmed straight off the top of my 'Comments Waiting for Approval' folder that arrived at My Second Million while I was writing this post – you couldn't make this stuff up if you tried!  Hello!!!  They are all SPAM!!
Surprisingly, all these Comments have got through Akismet's spam filter, and the Commenter must also have gone to the trouble of completing the Captcha step when Commenting, and yet…. and yet…. why do they bother!!
Can you see why all of these Comments are Spam?
Answer: All of these Comments could apply to any website anywhere.  It's true that none of these particular Commenters were blatant enough to include in their Comment, "Please feel free to visit my blog at…….com etc"… as if... BUT they all have the link back to their blogs or websites hyperlinked into their name.
That is normal, and also why they do it, because if I were silly enough to Approve their Comment so it appears online, their link back to their website would also be published, linked in/through their name. That is what they want, and what they will never get with comments like those above.
Making Comments like those above are a total waste of everyone's time – TOTAL WASTE OF TIME!
How to Spot a Spam Comment!
Spam Comments Are Comments That Could Apply To Any Website Anywhere
You will notice that all the above Spam Comment examples could be copy/pasted, word for word, into any website on the Internet – that is what gives them away… and why they will never get published, ever, anywhere online.
Of course that is what these misguided Spammers do – they type up some non-specific 'Comment' that could apply to any website, anywhere, and then try to bombard hundreds of sites anywhere on the net, with their feeble, misguided attempts to get their link published online so visitors come back to their own site.
Please, people….stop doing it – it won't work,
and it will never work.
So, that is how to identify a Spam Comment, BUT how do people who want to spend time attracting visitors back to their own site by Commenting on other people's websites, write Comments that WILL get published online?   That's easy, it's not difficult, it really isn't, but you have to work a bit harder to make it work.
See:  How To Write Brilliant Comments & Increase Site Traffic
It's all there.  It's not difficult.  Posting Comments that DO get published online is a good and legitimate way to build up your traffic numbers, especially when your blog or website is new.
Posting Brilliant Comments also gets your 'name' out there in the minds of other bloggers, and builds your online reputation as a serious blogger.
So, go out there friends, post brilliant comments, dazzle the world, and watch the traffic come rolling in!