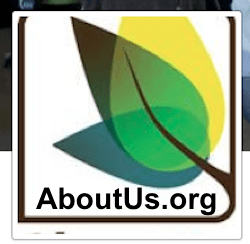 Free Site Reports AND Juicy Dofollow links? That sounds too good to be true, but that is exactly what you can get at the AboutUs.org site.  We all like free stuff, right? And we all need to know that our SEO is well optimized, because that will increase our online visibility in Search Engine Results, right?
That's the theory, anyway.  It's a brave blogger (stupid blogger?) who ignores their SEO – Search Engine Optimization.
The purpose of SEO is to make sure that Google web crawlers, and other web crawlers, will be able to 'see' all the goodies that we have posted on our blog – and see them easily because we have a well organized and well Optimized Structure for our blog with all our Title tags, Alt tags and Meta tags in place, exactly how Google likes them.
If you are not sure why it's important to know how web crawlers 'see' web pages, and why they don't see your website in the same way that humans do, you need to brush up on your SEO knowledge. My Category called SEO: Optimization covers much of the basics that every blogger needs to know about.
Many Beginner Bloggers can find SEO difficult to put into practice, even supposing they know what they should be doing in the first place.
That's where AboutUs.org comes to the rescue.  AboutUs has its own web crawlers that will scan our website and give us a Site Report on how well we are dong – and what needs to be fixed.
Notice the .org ending for this website. There is also an AboutUs.com website which focuses on providing Premium SEO services for Bloogers…ok, that's a typo but I quite like it – maybe I could launch a whole new subset of bloggers? A cross between Bloggers and Bloopers…what do you think?  But I digress…sorry….not to be confused with Belugas which I think is a type of whale…sorry again.
OK back on topic:
How To Get An AboutUs Free SEO WebSite Report
1.  Open a free account.
2.  Enter your Website URL in the text box available: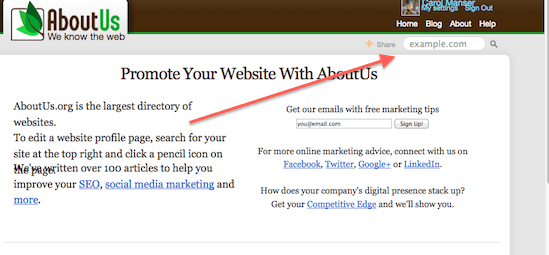 This will take you to a Page, which is your AboutUs Website Profile.  AboutUs calls this page  your Profile Wiki Page.  This page is where you can add information about your blog or website, yourself, and add Contact Information, logos etc.
Here is what mine now looks like, after I had optimized it by adding Information, a Logo and a lot of links back to My Second Million.  If you installed the NoDofollow Add-on you will be able to see that all these links are dofollow links, linking back to My Second Million.  You can edit every part of this page by clicking on the Pencil icons.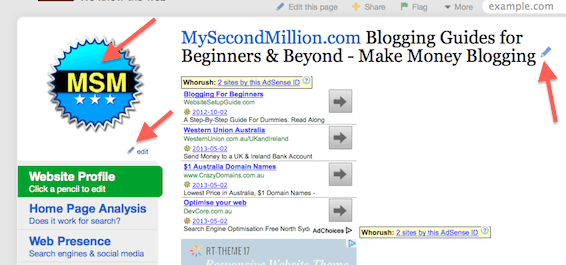 I will tell your more about how to optimize your Wiki Page so you can get dofollow links, later in this article.
On the left of the page, in green, you will see the AboutUs links for the different Reports you can view, such as Home Page Analysis, Web Presence and more.
Here you will see an overview of Titles and Headings, Links and Images, and Search Engine Friendliness.
3.  Click on Home Page Analysis
Here's a screenshot of my Titles and Headings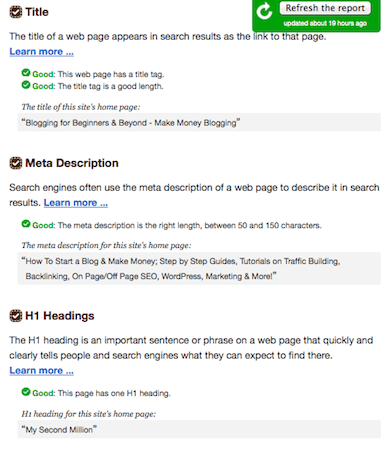 So far, so good.  Everything 'Good' and green, so nothing to fix in my Titles and Headings.
When I first used AboutUs to get a Free SEO Site Report, I didn't get a clean bill of SEO health.  I had long meta tags, short meta tags, even the occasional missing tags.  But once I got my AboutUs Site Report, I was able to follow the Learn More links and was able to fix up the errors.
Check out the various Learn More links to see some good SEO advice and information concerning SEO in general, and your website's SEO in particular.
On the left, under Home Page Analysis, you can link directly to the different Site Reports: Titles and Headings, Links and Images, and Search Engine Friendliness.
Go through them all, and fix up anything that needs fixing.
My Second Million now has a clean Bill of Health, except for my Links and Images, where I have a Warning – luckily it's only a Warning, not a big red Error message.  That is because AboutUs tells me that some of my Images do not have Alt Tags.  But which ones have missing Alt Tags?? Yes, this can be a problem if you have lots of images on your blog like I do.
However, I did find a way to check which images have missing Alt tags,  and in my next exciting article, I will tell you about a really cool online Tool that lets you check all of your website's Images to see which ones have missing Alt Tags.
How to Get Juicy DoFollow Links From AboutUs: Page Rank 5

.

All you have to do to get DoFollow links is, Edit your AboutUs Wiki Website Profile so it follows the guidelines that AboutUs suggests.  Here is a link to an article that will give you instructions about how to do this: Wiki Editing Help.

To see what a well optimized Wiki page looks like, check out this Link HERE and click on all the links….. He He, my cunning plot to increase my blog's traffic.

If you have installed the NoDofollow Addon to your browser, you can see that all my links are dofollow links (they show up as a particularly lovely shade of blue)…Dofollow links are backlinks which pass Page Authority (potentially Page Rank) from high Page Rank sites to lower Page Rank sites:  this AboutUS site has Page Rank 5…..and My Second Million has a Page Rank that is slightly lower Page Rank than 5

.  If you have downloaded and installed the SEObook Toolbar, you would be able to see the Page Rank of all the sites you visit. If you haven't downloaded the SEObook Toolbar, and know how to use it, check out SEO Tutorial: Get the Best Free SEO Toolbar.
I got given those Dofollow Links because after I had optimized My Second Million's ABoutUs Profile Page, I emailed Aboutus to request a Review of my Wiki, and got a big green Tick of Approval from AboutUs, with the DoFollow links as promised.
Once you have edited and Optimized your AboutUs Wiki Profile, send an email to AboutUs and request a Review of your Wiki, and earn DoFollow links if they think you did a good job.
There you go – no excuses now: Optimize your SEO with the help of an AboutUs Free Site Report, and get some AboutUs big fat juicy Dofollow links into the bargain.
And before you dash off in hot pursuit of juicy dofollow links, Subscribe to our Email Updates and never miss out on the latest blog posts and other information.