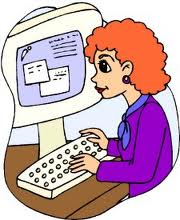 One of the really useful ways to learn about Internet Marketing is to study what the successful online marketers do.   Any site you visit that ranks on Page 1 of Google Search Results is a successful website by definition.  If they have worked out how to do it, you can learn a lot about how they've done it, from studying their website.
Remember that if a website is successful (high ranking) the site owner has done a ton of research to work out what works best for them – maybe they even pay someone to do that specific researching job of for them and nothing else.
Take advantage of that……….. Here's how:
Take Note Of These Basic Things
 What Text Formatting Does the Site Use?

What Font they do they use?
Is the Font with, or without, serifs – Serif fonts have the tail ornamentation on their letters. "Times New Roman"

is an example of a serif font. 

Most online bloggers use a non-serif font, and it's often Ariel.  I use Ariel on this blog.
What font Size do they use for their different headings, subheadings & text?
How have they used different colors for headings & subheadings?
How many words do they use per post on average?
 Study Their Home Page Design

Do they put the full post on their home page, or do they have a home page with short blog paragraph and a 'Click here to continue' which takes you to the full post.
How much text have they chosen to leave visible on their Home page before the link: 'Click here to continue'.

Short intro paragraphs allow more posts to be visible on the Home page at one glance which increases the chance that at least one of the articles will be of interest to your readers

Do they put their 'Continue' link at a particularly enticing/interesting/cliffhanger moment in the text which encourages the reader to click on that link?

What is enticing about that piece of text?

 Examine what is visible when you first land on a home page – scan what you see – does it look interesting?

                             Check Out The Website's Layout 

Have they chosen a one column, two column or three column site design
Have they put the sidebars on the left or the right
Notice what links and/or ads they have chosen to put in their sidebars
Is the site well laid out with good navigation links
Do they have a Menu of subsections/category headings across the top of the page?
Is that menu above or below their page's Header image?

Which menu position is most common on successful websites – ie what works best?

How many subsections/category headings does their Menu have

What words have they used in those headings?
How have they made them sound interesting?
Long words or short?

Does that menu have drop down menus?
How have they grouped their different posts into different categories in their Menu?
Does The Website Allow Comments?
Do they put a Comments box and if not, why not?
Are the comment boxes easy to see – how have they done that?
Where are they placed on the page?
Is there a separate block/color for the Comments or just a Text link on the page
Do comments boxes allow you to add a live link to your own site with your comment (free advertising opportunity for you)?
Do you have to give your email address in order to make a comment?

How do you feel about that?
Is it going to make you less inclined to leave a comment?
Decide if you are going to do this on your own site or not.  You can always change this sort of thing on your own website later if you want to test out the different response rate for each option.
What is The Website's Marketing Style?
Look at the style of the website: How has it been designed to make it interesting by using different tactics for different audiences/readers/customers?

For example: a hard sell with lots of big red flashing 'Click Here' options and 'Special Offers' or
a more subtle persuasive style used by websites which are trying to appeal to a different type of reader/buyer/market.

Which different types of products are promoted with the hard sell vs a soft sell. Why?
Is it an extremely 'busy' site with a lot of color, flashing images, Ad images, logos and links or is it a clean and simple design.
Which do you prefer?
Notice what design styles are associated with different products/markets.
Think about what style best suits you and your own niche topic or market
What style of language and words do they use

Chatty? – they want to target Jo and Mrs Blow for their products
semi-formal? – they want to be seen as a serious Authority site – a semi-formal style makes the reader think they know what they're talking about….make up your own mind and see if you agree.

I've learned to really hate some marketing styles – I even wrote a post (rant ) about them here:

                         Does the Website Carry Advertising?


Do they have Adsense ads on their pages: all pages? If not, which ones?
How have they chosen/limited the specific Adsense ads they allow on their site?
Where have they chosen to put those ads on their page? High? Low? Right? Left?
                           Does the Website Have a Follow Me! Option?
What do they use to encourage you to 'follow' them online?

Facebook, Twitter, RSS feed, Linkedin and all the rest

Where have they put those link icons on their page

Every page or only some – why?
Is it easily visible? How did they do that?

                             Does the Site Offer a Newsletter?
Do they have a Newsletter? For example: "To receive my you-beaut FREE Newsletter (full of extremely useful information-of course) Enter your Best Email Address Here" Of course it's free – getting you to supply your email address is maybe the No 1 goal of many websites – more on that later.
where have they put this Newsletter link on the page
does it stand out well?
how have they made it stand out?
What words have they used to entice you to join up?

             Study Promotional Email Campaigns You Receive

All the above, also applies to all emails you receive from marketers – they are all promotional in one way or another, even if they aren't actually asking you for money.  Study the sequence they use in any email 'campaign' they send you for any particular product.  It's all carefully planned, researched, worded and sequenced to persuade you to 'take action' in one way or another.
What Are Marketing Emails Trying To Make You Do?
When you receive an email from blogger, website or business, they are all trying to make you DO something.
1. Relationship Building Emails:
Some emails are sent to keep Subscribers who are already on that person's Subscriber List, up to date and 'in Contact' with the sender's website.  These emails are not aimed at making you buy something.
These emails are building and reinforcing a relationship with the Subscriber by providing Content emails – useful information that will benefit the receiver.  A secondary aim of these 'relationship emails' is to boost visitor numbers by getting you to click on links in the email that take you back to that person's website to read the relevant article.
2. Opt-In Emails: Getting You To Swap Your Email Address for a Freeby.
Some promotional emails aim to get you to exchange your email address for watching a video, or receiving some other freebee. These are called 'Optin Emails'. This is a form of Affiliate Marketing.  The sender of these emails is not trying to sell a product to you directly.
They are trying to get you to sign up to emails from a Third Party (affiliate buddy) who WILL be trying to sell a product to you directly.
In this sort of marketing arrangement, person A sends you an email asking you to swap your email address for Person B's freebie giveaway. Person B pays Person A for every email address they receive from Person A.  Or, more commonly…..Person A gets a commission on every sale of Person B's product that came from one of Person A's email leads.
If person A has a huge Email List of Subscribers, the chances of one or two of them buying the high priced (usually) product from Person B are quite reasonable.  Moral: Build Your List!!!  Start off here: Mailchimp Forever Free Autoresponder for Small Email LIsts

3. The Long Campaign Marketing Emails
Some marketers plan a whole series of Relationship Emails that lead (inevitably 

) to the final big Call to Action! – an email which is designed to make you part with large wads of cash!
Yes, it's a type of 'sucking in and softening up the customer' process so the 'customers' are ready for the final knockout blow!  I could be being a tiny bit cynical here, but Hey – this is business, right??  Study the marketing emails YOU receive and then tell my I'm not right!
3. Affiliate Marketing Emails:
There is nothing too mysterious here.  The email sender (Person A) has already built up a List of Subscribers.  He/she then finds a product made by Person B.  Person B has an Affiliate Marketing Program that lets other people to sell their product for a Commission.
Person A signs up to be an Affiltate for Person B's product. Person A sends an email to their Subscribers informing them about Person B's product – reviewing and promoting it.  The 'good' marketers have already used the product themselves, or they know the product is reliable and will be useful to their Subscribers.
When one of Person A's Subscribers clicks on Person A's link to Person B's product…. and then buys it, Person B pays Person A a Commission on that sale. Easy as!
–o–o–o–
These are some of the things to take note of during the learning and research phase of your brilliant blogging career.
Examining how successful online marketers 'sell' themselves to you soon becomes a habit.  You will begin to recognize the patterns of many styles of marketing.  Some you will grow to hate – believe me!
If you would like to see the particular marketing styles that I hate, see my post Marketing Styles that I Hate! 
Tip for young players: if you feel strongly about something – blog about it!  It's an opportunity not to be missed – and it's also therapeutic!   Hint: stay away from politics and religion unless that is your niche……it can get messy!  Anyway, it's off topic and therefore not good marketing – save those sorts of rants for your friends….

Whether you hate a style or not, study them, anyway – someone finds that style persuasive, otherwise the site would not be ranking well.  And learning to be persuasive and convincing is what we need to know in order to become successful online marketers ourselves.
Study what they do and how they do it.  Use this information to decide what sort of style and design you want to use on your own websites.
Then…. go out there and knock 'em dead…Cue Motto!
Plan Well. Start Small. Think BIG!
Keep up to date with the latest MSM articles by subscribing to our Newsletter: