We're OFF! Yes the SEO Powersuite, which is usually totally unaffordable for ordinary bloggers, is having a 3 Day Sale.  They are giving a massive 63% discount off the bundle of SEO Tools called SEO PowerSuite.  Normally, this bundle of high-end SEO Tools costs $399 – yes, totally out of the reach of ordinary bloggers – but for 3 days only, you can grab the whole bundle for only $149.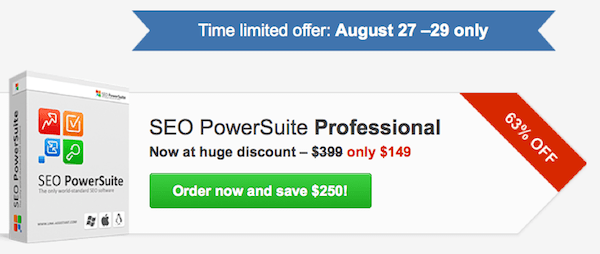 This puts these powerful high end SEO tools into the range of you and me – bloggers who sadly do not make a fortune every day.  If even $149 is beyond your budget, you can grab individual components of the bundle as follows:
These are the individual components that make up the SEO PowerSuite bundle:
Website Auditor
I'm not sure which of these is my personal favorite – maybe the Website Auditor, although the SEO
Spyglass appeals to my inner Spook.
All of these SEO tools have a free version that I recommend you should quickly download and try out before you grab the full Professional version.  But remember, this 63% discount closes on 29th August 2013.
I suggest that you go to SEO PowerSuite, download the free versions of these 4 components, watch the Run-through videos for each tool provided on the SEO PowerSuite website, and test out these tools for yourself.
I think you will find that they are really powerful and will give you stacks of useful extra information (and links via Link Assistant) that will help you run a search-engine-friendly, and successful website.
I already knew about these tools in the SEO PowerSuite bundle, and have used the free versions for quite a while, so I grabbed my 63% discount earlier this morning – as soon as the starter's gun went off.
So, do your research, check out the value of what these powerful SEO tools can offer you, and grab a bargain while you can.
I grabbed these tools today myself, because you can easily spend $149 on a single SEO Tool such as Market Samurai.  But with this SEO Powersuite bundle you get the sort of data you can get with Market Samurai, plus the other tools as well, all for the price of the single Market Samurai.
One big advantage to me, is that I know that by grabbing this bundle, I will not have to buy any other SEO tools, ever.  This bundle of tools will give me all the data and feedback that I will ever need to run this blog.
Most high end SEO tool sites charge huge prices which recur every month –  i.e a small fortune that you have to fork out if you want to get more data than just your 10 first back links, or a simple chart with no details!
How can anyone even pay that? I suppose the big commercial companies can afford those sorts of prices, but for bloggers like us, no way, ever.   So for me, anyway, the 63% SEO PowerSuite deal is sweet!  
So, Check it out, friends, grab yourself a  bargain, and join the Big Boys (and me) in SEO heaven – I could be getting carried away just a little here....:) 

And don't forget to sign up for our email updates, tips, news and gossip.