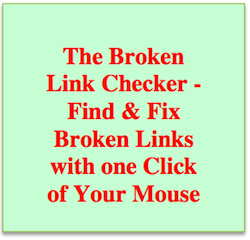 Do you have broken links on your website? Do you even know if you do?  I thought I had my linking structure under control and perfect…until I installed the Broken Links Checker Plugin, and let it loose on my database.  Wow!  It was a revelation. And when I checked, it was all true! All the Broken Links and Link Errors that this plugin reveled were indeed dodgy (a technical term) or not working at all and going to Page 404 Errors – all broken links.
So why did I think my Linking structure was fine?  Because I frequently check my Attracta Broken Links Report that comes as an Extra Tool with most Website Hosting Accounts, and here is what it was showing before I installed the Broken Link Checker Plugin.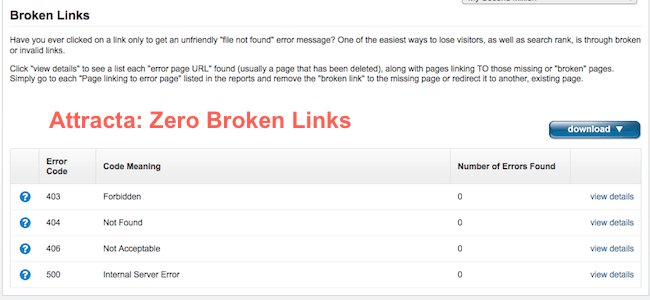 Ha! I wish!  After I checked my data base with this Broken Links Checker, it automatically scanned and found 22 broken links!  All on it's own!  I just had to click Go! and watch it go to work.  And Attracta had missed all of them – I say nothing….
The Broken Link Checker Plugin by Janis Elsts

Yes, you saw right – this plugin was made by a female geek – who knew there were any! On'ya Janis! [ancient Aussie words of encouragement].
Once you install this Broken Link Finder Plugin on your WordPress Dashboard, it starts to scan your whole website for you, all on its own. It finds all the Broken Links and Link Errors for you, right there on your dashboard.  It keeps scanning as long as your blog is online.  It updates it's results constantly, and it notifies you of any new Broken Links it finds over time.
Ping! Zap! Fixed! It's great fun. It's a bit like those 'I Shooter' Computer Games, or shooting fish in a barrel if that is more your sort of sport.  And amazingly it's free.
Yes, that's true, unfortunately for me, it is free. There is no Premium version, and no Affiliate Program, so my rave review will not help me to finance an early retirement and a life of luxury.  What?  Hey, we all like to make money from our blogs, don't we? Yes.
I can heartily Recommend this Plugin.  Here is how you install it and let it loose on your Content.
Go to Dashboard>Plugins>New Plugins and type Broken Link Checker in the Search text box.
Your search with show you this entry for the Broken LInk Checker.

Click Install and then Activate: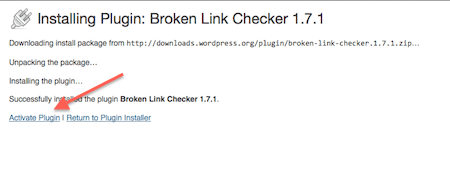 This plugin gets installed in your Tools section of your Dashboard.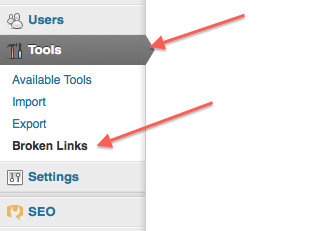 And it's off!  Here is a screenshot I took of it when it had only found 6 Broken Links. It later went on to find 22 broken or problem links.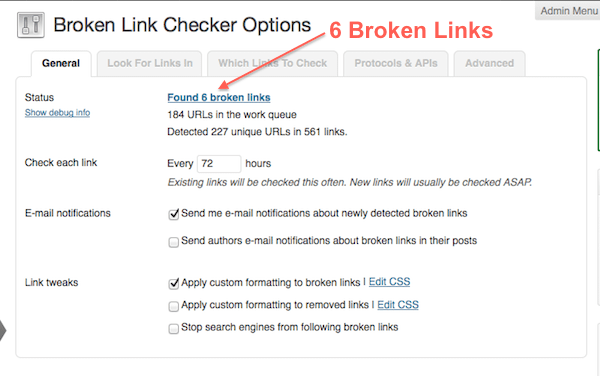 But wait! The best thing about this plugin is that you can fix these Broken LInks right there on your Dashboard.  Here's what you do:
Pick one of your Broken links that the Plugin has found for you.
Hover your mouse over the link and you see some one-click options:
Edit URL,
Unlink,
Not Broken,
Dismiss.
The Bulk Action Choices are
Edit URL,
Recheck,
Fix Redirects,
Not Broken,
Unlink,
Move Sources to Trash.
I checked out one of the Broken Links it had found – it was a link in someone's Comment.  And yes, it went to Page Not Found 404.  So I clicked 'Unlink' and checked the link again at the Comment.
The Comment was still there and visible, but the link back to the Commenter's blog was no longer live and therefore I had no Page Not Found 404 Error on my own blog. Brilliant.
It took me five minutes to fix all 22 problem links. I think 99% of them were links in my Comments.
This plugin also lists all your Redirects and tell you if they are all still working ok.
So get it while it's hot! It's free and it's brilliant.
And before you dash off to fix all your Broken Links, why not sign up for regular updates so you get notified when new articles are published here on My Second Million.  Just click Subscribe below and it's done.