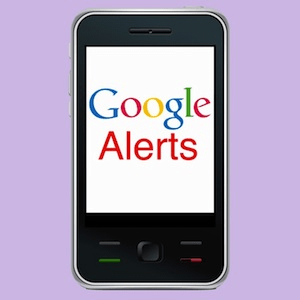 Do you use Google Alerts? Google Alerts is a powerful FREE tracking Tool from Google.  The fact that Google Alerts is a Google Sponsored Tool means that we know we should be paying attention when Big Daddy G gives us something to use.
Google Alerts are an under-used (and free) Resource Tool that can be used in many creative ways to snag focused information, analysis and insights into your Niche or Market.
What Do Google Alerts Do?
The Google Alerts Tool is basically a content Tracking Tool that you can set up to automatically scavenge for any Content, Topic, Person, Trend, News, Competitor, Product, App, Software, or Keyword that anyone mentions, anywhere on the Internet.
It's an online Spying Tool… he he!…or… a Research and Analysis Tool if you want to be politically correct (and boring) or if the idea of being a spy scares you.
Once you set up some Google Alerts you will automatically receive Notification Alerts of all the latest Google results for each of your specified search terms.  You can set up as many Google Alerts as you want to, and make your Alerts Results as focused or broad as you like.
For bloggers and marketers, Google Alerts is a Free Research and Analysis Tool.
 How To Set Up Google Alerts
1. Go to the Google Alerts Home Page.

2. Enter the Search Term you want to monitor across the Internet.
For example, you could enter the name of your Blog or Website.
If you enter the name of your Blog, Google will automatically send you a Notification email or RSS feed result, every time your Blog's name is mentioned anywhere on the Internet – including by you.
Amongst other things, this type of Site Name Branding Alert is good for checking that every new article you publish on your site is actually is getting indexed by Google, and when.
Google will also notify you about every time someone else mentions your site name online – good for tracking ping-backs and links.
3. Enter the Email Address where you want to receive Google's Notification results.
4. Confirm your new Alert.
All done!  You will now receive an email every time Google finds a new search result that names your Blog. But wait! 

  You can fine-tune your results by setting more options. Yes!
The 5 Basic Google Alert Options
Option 1. The Search Term.
   On the left of the Google Alerts page you can tweak the following options:
 Not sure how to blackout text in screenshots? Check out How to Blackout Text using Mac's Preview App
On the left of the Google Alerts page you can tweak the following options: Search Term, Result Types, How Many/Frequency, How Often  There is an additional option that's set in your Google Account to receive either Email or RSS Notifications.  See below:
Search Term Tips: the same search 'Operators' apply to Google Alerts as apply to an ordinary Google Search:
1. Quotation Marks: If you put the search term inside quotation marks it limits the search to only include that exact term, keyword or keyword phrase that you put inside the quotes.
2. Add Asterisk: If you put an asterisk * in the search term, Google will try to broaden your search to add any word that relates to that search term, and include them in your Results.
For example: "Blogging * Beginners" (without quotes) picks up any search result where Google replaces that asterisk with any other relevant word or phrase.
So, if any of these alternatives relate to your Niche::
'Blogging Tools for/SEO for/Research for/Themes for/Tips for/Tutorials for/etc, etc Beginners'
 Google Alerts will notify you about all the latest articles published by your Competitors in any/all of those niches that Google can 'match/fit' into your search (with asterisk) request.
 3. If you put an ~ in front of the search term, Google will widen it's search to find and include synonyms and related terms/niches of that term in it's results.
For example: the search term: "~ free seo tools" (without the quotes) will tell Google to broaden it's search to capture any term that has the same basic meaning as "free seo tools".
So, if free SEO Tools happens to be your Niche, this Google Alert will keep you up to date and informed about the latest popular topics in your niche, and what your competitors are up to.
4. If you add a negative sign after you search term Google will filter out results related to whatever you add after the minus sign.
For example: "My Second Million" -site:Twitter.com.
That search term would instruct Google to notify you of every new mention of My Second Million, but filter out any of those mentions that appear on Twitter.
Option 2: Result Type:
In this screenshot you can see what happens if you tweak your results for different Result type filters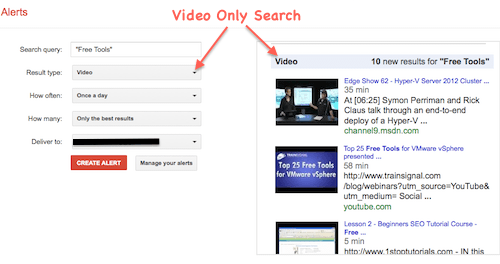 Your choices are: Everything, News, Blogs, Video, Discussions, Books.
This screenshot example above shows the results for a "Free Tools" search term: using a Video Only filter.
On the right hand side, you can see the 10 Videos Google found for that search term. 
Option 3. How Often (Frequency)
Nothing difficult here – choose how often you want Google to send you a Notification email or RSS feed.  You can set different Frequencies for each Search Term you add to your Alerts.
Your choices are: daily, weekly, or As it Happens.
Option 4. How Many (Quality and/or sheer numbers of results)
The choice here is whether you want to be notified of
'Everything' or
'Best Results only'.
This filter tweak is one way to control how full you want your Inbox to be.
Your choice can depend on the popularity of the individual search term, and how many results you are likely to receive for each Alert.
Option 5. Choose Email or RSS Feed Notifications.
If you have a Google Account, you can choose to receive your Alerts via RSS instead of by email.  Simply sign in to your account and choose the "Feed" option in the "Deliver to" field.  You can read your feed in any RSS feed reader.
The 'Manage Your Alerts' Button Link
That link at the bottom of your Google Alerts screen takes you to your Summary Page of all your Google Alerts.
There, you can edit and change any part of your Alert Settings from your 'Manage Alerts' page.
If you get stuck or need more information, check out the Google Alerts Help page.
Is Google Alerts the Best Online Tracking Software?
A few months ago, Google Alerts was being labeled as 'unreliable'.  People had noticed a drop off of Email Notifications and thought that Google Alerts was about to be dumped, along with Google Reader.
However…. recently, the blogging world seems to agree that Google Alerts is back, and as good as ever.  My advice is to try it out and see what you think – after all, it's free, and takes only 5 minutes to set up.
However (again) here are some alternatives:
Alternatives to Google Alerts.
Talkwalker has been given a rave review by Search Engine Land (a PR7 site and a good place to add a Comment with a link back to you – and don't forget to tell them I sent you. 

Mention has both paid and free Plans.  Mention's Free Plan allows you
3 alerts
500 mentions per month
1 month history
3. Yahoo! Alerts  :is also worth experimenting with.
Google Alerts Take Home Marketing Message:
Google Alerts is a Free, Powerful and fully automated research and analysis tool.  What's not to like about that?  I recommend that you start using Google Alerts to snag online leads, catch the latest wave of up-and-coming popular trends in your Niche, check out your competitors, track keywords and back-links, and to monitor other people's Content that's published in your niche.
In my next article I'll explain some of the clever ways you can use Google Alerts to bring you valuable information that you can use to leverage your Blogging and Marketing efforts.
Have you signed up for our Email Notifications yet?  It's easy and it's Free: just click on the Subscribe link below and feel the love (just kidding, sort of):