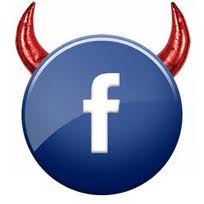 Announcement! I've finally set up a Facebook Page for My Second Million! I resisted!  I really resisted.  It was a difficult birth, but mother and baby are doing well.  I'm even quite proud of my new Facebook Baby.  So, now I can tell all my lovely readers, how to do it – everything – how to set up a Facebook Page from a base of Zero Knowledge.
Every website must have a Facebook Business Page. Love it or hate it, Facebook is used by millions of people everyday.  As website owners, we need to exploit that marketing opportunity, and tap into that river of gold.  But, for people like me – people who hate Facebook – this is one task we resist doing for months.
We know we should…. we even know that our Facebook Page must be well designed, and optimized, but that is all we know, and all we want to know.  We also know, that in the end, we all have to knuckle down, bite the bullet, and just 'get it done'.
How to Set Up a Facebook Page For People Who Hate Facebook.
A Facebook Business Page is many things, but mainly, it's a place to promote your website, business or blog.  It's almost like having a second, separate, mini-site out there in Facebook land, trying to fish for extra visitors, hook them, and then land them back to your main Blog or Website.   We use it in the same way we use Google: to gain visibility to as many people as possible, and then to attract them back to our Blog or business website as website traffic. Traffic = money in the online world, so everyone is out there chasing traffic.  That's why we all need a Facebook Business Page.
Difference Between Facebook Pages and Facebook Profiles
Here is your first opportunity to be confused – Terminology.
Terminology: Profile Page
If you have ever set up an account at Facebook, that ordinary, basic, Facebook page (where you have your personal Wall, and a News-feed etc), is your Profile page – or simply your 'Profile', as Facebook confusingly, likes to call it.
So your Profile at Facebook, is actually a page/account – it's not a Profile in the normal sense of the word. Normally, a Profile is the place on a forum or website where you say a bit about who you are, and where you can change your password and load up a photo or avatar. Normally, it is not where you interact with people. But at Facebook, your Profile is your ordinary, primary Facebook area – where people post messages and photos to family and friends. Your Profile at Facebook, is also not your 'About ' section on your Business Page (or on your personal Facebook Profile page/account), it actually is your personal Facebook page/account. Confused yet?
Terminology: Facebook Page
Here is your second opportunity to be confused – you can always count on Facebook!  A Facebook Page is also known as a Business Page, but is also known as a Fan Page – even if you are not a fan of Facebook 
or anything, or anyone else at all.  That's because a Business Page, used to be called a Fan Page…until Facebook changed it, and some poor souls have trouble moving with the times, and keeping up. 
Differences Between Profiles and Pages
A Facebook Business Page has certain limitations on how you can use it to link, and 'Like' and Comment, on other people's Profiles and Pages.  As you start to try to promote your Page around Facebook and the Internet, you will often find you have to change back to login using Facebook as your Profile, not your Page, before you are allowed to make your Comment – or Message, as Facebook sometimes calls it.
That means that your Comment is linked back to your personal Profile, not your Business Page, which kind of misses the point of trying to publicize your Page. This problem crops up mostly when you want to send a message to someone on Facebook whose Privacy Settings will not let you post messages on their profile or page.  But also, so-called 'friends' who don't want you to send them messages – you know who you are!!!  
It also happens when you want to leave a brilliant Comment somewhere online, and you have to login via Facebook to do so – then you have to switch back to your Personal Profile identity before you can add your Comment.
I'm not sure why these bloggers (or Facebook?) do this – maybe to stop you promoting your own Facebook Page on another blog? – but isn't that what we are all trying to do?  Anyway….moving right along:
Another difference between Profiles and Pages is that you can only have one Profile, but you can have as many Facebook Pages (Business Pages) as you like. Your Facebook Page (also called your Business Page or your Fan Page) is like a daughter/son page, sub account,  to your main Profile parent account.  You cannot login directly to your Business Page.  You must login to your Profile, and then click through to your Business Page(s).
How to Set Up a Facebook Business Page for Beginners
You need to have an email address
Do a Google search for Facebook
Click on 'Welcome to Facebook'
You arrive at the 'Sign up' Page
At the bottom of the page under the green 'Sign Up' tab, you see 'Create a Page' for a Band, Personality or Business:

6. Click on 'Create a Page' and you see this screen: Create a Page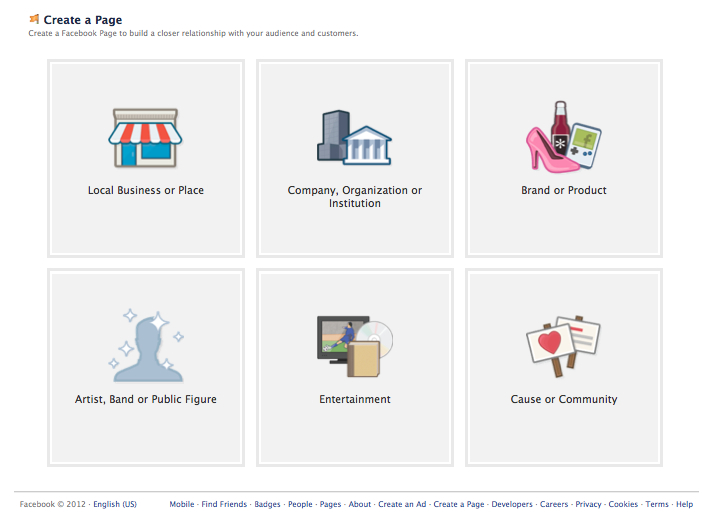 7. If you click on 'Company, Organization or Institution' in the middle of the top row, the panel flips so you see this screen:

         8. Choose a Category, fill in the name of your website's Page and…. Voila! You have a Page!
Alternative Route to Creating a Page:
In the Google Search results for Facebook, click on 'Facebook Pages', and you see a screen with samples of some Facebook Pages.  Above these Pages, to the right of the screen you see '+ Create a Page'.
Click on that and it takes you through the same stages to get to creating your own Facebook Page for your blog or website.  OK, easy so far.
Want to check out my Facebook Page? Here's the link: Facebook: My Second Million  I have to improve the Cover photo, but it's up and running, or, as we say in Aus: 'It's a go-er'.
In the next articles, I'll cover Cover Photos, Banners, Profile Photos and Logos.  Then, how to add Content and link it to your Blog or Website, then how to add a few bells and whistles to make it look cool….and bring in lots of Facebook fans.
Like the you-beaut MSM Facebook badge I made and uploaded to my sidebar to the right, and the Facebook 'Like button' (please 'Like' me – I will never get used to asking people to like me!) I've added to the top of each article with a clever plugin.  This plugin also allows me to add the pale blue request for a 'Like', and subscribe to my RSS Feed – please do – that is now at the end of each article.
Yes, so many Facebook goodies still to come.
…….I'm quite liking Facebook as a Page owner, but don't tell anyone – or my credibility will be shot!
       ……Cue Motto!
Plan Well Start Small Think BIG!