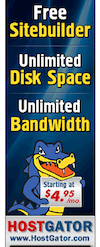 Oh No! Oh yes! Hostgator has just told me that this 30% Discount Coupon Offer has been so popular, that they are Extending it to the End of August!  Doh!  Of course, this is great News for my readers, but really!  My credibility and Trust factor has been side-swiped – Everyone was told that this Coupon Offer was ending on 31st July 2013…and now… it isn't.  Grrr.
BUT…. this 30% Offer is still a really great Offer!  Even though Hostgator has moved the goal posts on this Coupon Offer, Hostgator still gives the best Host Packages on the Planet.  So nothing has changed except the Closing Date: still the same Hostgator links as below, and still the same Coupon Code: MySecondMillion.  Yes, get it while it's (still) hot!  Same post, same deal, same Bargain! Only the names have been changed to protect the innocent – me.
Last Day Today! This Offer Ends midnight 31st July 2013.  Yes, my favorite Hosting company, Hostgator, is repeating its recent 30% discount Coupon Special Offer.  There are only a few days left for this offer, so now is your chance to grab a bargain while you can.
Who is this 30% Coupon for?
This Coupon is for anyone who wants to start a new Blog, or anyone who is dis-satisfied with their current Host – I know you are out there!  When Beginner Bloggers first set up a Blog you need to choose a Hosting Company to Host your new blog on the Host's Servers. If you aren't sure why you need to pay for Hosting when you set up a blog, or what to look for when choosing a good Host, see my article: How To Choose a Good Host.  
Beginners should also check out my whole Category called: How To Set Up a Blog. This Category (you can also find it from the Search box, or in right hand sidebar) shows newbie Bloggers all the steps you have to take, and things you need to think about, before you start your first blog.
This Hostgator 30% Discount Coupon Offer is also for anyone who already has a blog or website, and who is dis-satisfied with their current Hosting company's Performance, Cost, or Support services.
If you have been thinking of switching your Host, now is the perfect time to do it.  Partly because Hostgator is regarded as the 'best' Hosting Company that there is, with its outstanding 24 hour Support – absolutely essential for Beginners!  And partly because right now, you can grab a whopping 30% discount off your first Hostgator payment.
BUT you only have a few days to grab this deal.  There are no guarantees that Hostgator will ever repeat this offer, or when.
How Do I Claim My 30% Discount?
That's easy:
1. Go to the Hostgator website via this special link: HOSTGATOR.
2. Select which Plan you want to buy.
3. If you don't already know this, ordinary bloggers and websites need to select a Plan from the type of Hosting deals called 'Shared Hosting'. (The other types of plans are for Hosting different and specialized types of websites).
4. I personally use the Baby Croc Plan for all my blogs – because this Plan includes unlimited numbers of websites for the same Price, plus much more i.e. it's the best value plan to have.
5. During signup, you will be asked if you have a Coupon…well, yes you do!  You can use my special 'me-only' Code which I could get from Hostgator because I am an existing Hostgator customer.
6. Here is the Discount Link to Hostgator: Hostgator
7. Here is the special one-time-only Code: MySecondMillion
7. When prompted during signup, type MySecondMillion into the Coupon box to claim your cut-price deal.
8. You can see that this is my special once only 30% Coupon Code from Hostgator to me, because it's only for readers of My Second Million.   So now all my readers can grab this bargain… if you hurry.
Offer ends 31st July 2013 – don't miss out, get it while it's HOT!