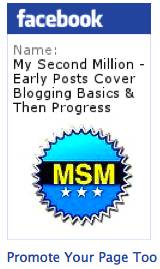 Facebook Badges are easy to make, once you know how. Making a Facebook Badge, and installing it on your website, promotes your Facebook Business Page to all your website's visitors.
You need a Facebook Badge to increase your website's visibility on the Internet. Why? A Facebook Badge links your website to your Facebook Business Page, and extends your reach into the Social Networking system.
It's yet another way to use Facebook to increase your blog's exposure to all those many millions of people who use Facebook every day – lots of potential customers!
Not sure what a Facebook Badge is?  I have one for this blog My Second Million. You can see it in the top of this article, and in the right hand side bar.  Many of your visitors will click on your Facebook Badge and will be taken to your Facebook Business Page – also known as a Fan Page.
Some will click on the Like buttons you installed on your Blog (please do
) with the Socialize plugin.  That sends a recommendation, plus a link from your site, back to all their Facebook Friends.  Some of those people's friends will visit your Facebook Business Page, click on one of your website's links, and land back at your website. Brilliant!
It's all a bit like a merry-go-round for bloggers.  You need to get onto that merry-go-round right now and start boosting your blog's visitor numbers  – your traffic.  And traffic = money in the online world.
Not sure how the Like promotion system works? Read Install & Configure the Socialize 'Like' Plugin
A Facebook Badge Needs a Logo to Use
Before you can make a Facebook Badge, you will have make a Logo for your blog that you can use as your Profile image on your Facebook Page.  Unless, of course, you want to use a personal photo as your logo, and you don't mind having your mug-shot spread all over the internet.
Not sure how to make a free Logo? No worries!  Find out how it's done here: Tutorial: How to Make a Free Logo Using The Mac Profile App.
How to Make a Facebook Badge
Log in to Facebook.
You will have to log into Facebook as your Personal Profile before you can start.
You have already made your logo, and are using it as your Profile image on your Facebook Page, so we are ready to roll!
Go to: Facebook Badges at  http://www.facebook.com/badges/
You will see this screen.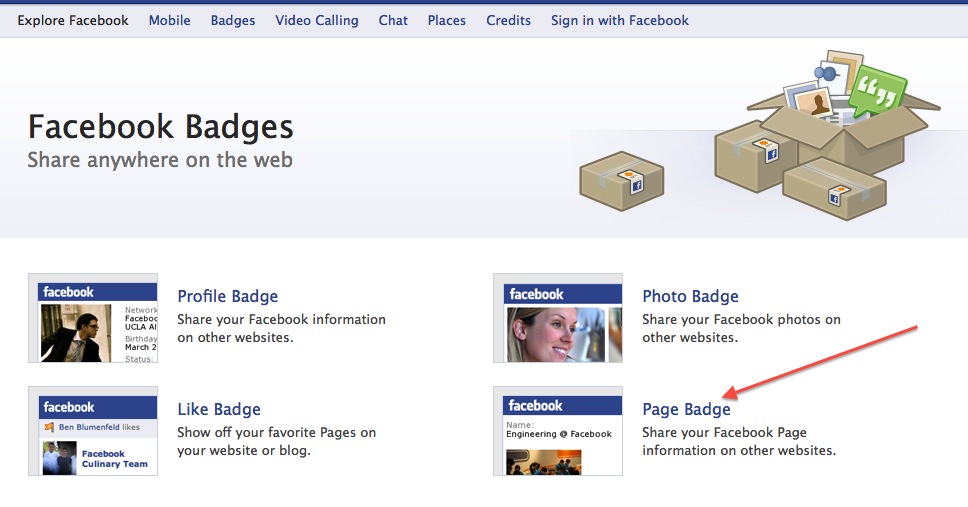 At this Facebook Badges page, you will be able to make a Facebook Badge for a number of different uses: for your Personal Profile, for Photos, for a Like Button, or for your Business Page.
We are interested in making a Badge for our Page to put on our website, so click on
Page Badge
(arrow)
You will see this: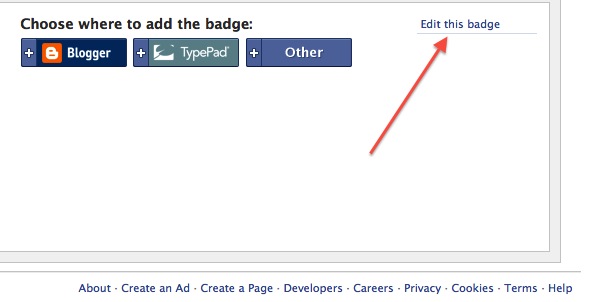 At the top right corner, click on Edit This Badge.  You will see this:

Here is where you choose your layout and Items to include on your Badge.
Choose what you want to be included on your badge, and the layout you want.
Click Save.
You will be given a Preview of how your Badge will look, when you take it and upload it onto your website.
When you're happy with your design and layout, you must select the platform where you want to upload your badge.  See: 'Choose Where to Add the Badge' below.
You have 3 blog platfiorm choices: Blogger (Google blogs), Typepad, or Other
If you are using a WordPress blog, click on Other.You will see some text appear below the 3 platform logos:

Below the 3 platform logos, it says: Copy this Code and Paste it on your website. The code is the HTML formatted code for your badge.  So copy/paste the code inside that thin text box and paste it onto a Word Document for safe keeping, and as a quick backup resource.
There is a lot of code hidden there in that thin text box, not just what is visible.  But no worries – hold the mouse down at the start of the Code, keep it down, and slide your mouse cursor to the right.  The rest of the Code will keep moving along, and your mouse will 'catch' it ok.  Then paste that Code onto a Word document for safe keeping.
Nearly done.
How to Add Your Facebook Badge to your Website
You will want to add your badge to your website's sidebar. That is where we want to place it because the sidebar is visible down the side of every page and post on your blog.  It therefore has high visibility to your readers.  Sidebars are part of the static part of your blog – it's part of the design, so the same sidebar is always visible next to every different page and post.
We add the badge in the same way we add Bannner Ads to our sidebar – by using a WordPress Widget.
If you don't know how to use Widgets, or how to add Banner ads to your sidebar, go to How to Add Banner Ads To Your Blog for a step by step guide and instructions.
Basically, you go to your WordPress blog's Dashboard, and drag a Text Widget across to your Sidebar position of choice.
Then you paste your Facebook Badge's HTML code you got from Facebook, into the widget text area and click Save.
Then you check out your brand new, you-beaut Badge in your blog's sidebar…… and stand back and wait for the rush of eager Facebook-ers to do their work – bless them!
……….
Cue Motto!
Plan  Well Start Small Think Big!