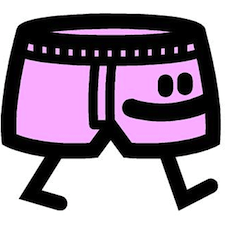 Short URLs are a must if you post Tweets on Twitter.  Twitter Tweets are very different to posting on Facebook and Google Plus. When you Post a Tweet at Twitter, you have to cram your Article Description (Marketing & Promotional Message Opportunity) into a max of only 140 characters long. Like some people's shorts, Twitter Tweets are SHORT.  Space is limited, so you need a short URL link to match.
Newbies quickly realize that your 140 character limitation includes your Domain URL link.  So you NEED to use short URLs to maximize the text-space for your all-important Introduction/Promo Message – your Tweet.  But which software to use?  Well, it has to be SHORT!  In fact, this research reveals that the Shortest, is also the best! How good is that?
So, if you have a long domain name, such as http://www.mysecondmillion.com/ that's already 32 characters used up out of your Twitter limit of 140 characters.  This means you only have 108 characters left for the Introduction Promo message for your Tweet.  You have used up a whopping 23 % of your allocated Tweet characters – and you still have to add the URL link that directs readers to your specific article.  Once you add the article link, there are almost no characters left for you to 'sell' your tweet (with it's link back to your article) to the Twitter community
For Example:
Using my Post: How To Make EASY Drop Down Menus WITHOUT Using ANY HTML as an example:
Using the Original URL: If I were to use the original URL link for my Twitter Tweet, the character length would be:
http://www.mysecondmillion.com/create-drop-down-menus/  = 54 characters.
This leaves only 86 characters left for my Promo message!  I have wasted a massive 38% of my introductory Marketing opportunity by not using a Short URL Link for my Tweet.  This is obviously hopeless.
Newbies to the gentle art of Tweeting, quickly realize that you really do need to use short URLs for your Twitter Tweet Links.
So… given that we need to shorten URLs for Twitter Tweets:
What Are the Short URL Link Software Options?
Well, there are lots of Short Link Software Options to choose from, and selecting your preferred Short Link Platform(s) involves more than a simple character length count.
 For example: Some short link software platforms give you extra tracking and Social Media Distribution options, on top of giving you your Short URL Link.  But for this article, I'll only cover: Which Short URL Link software gives you the Shortest URL Link for your Tweets.
Shoot Out Results of Short URL Link Options in Reverse Order

:
(Read on below for the details).
Socialize Plugin

: 72 characters long

Pretty Link Plugin

Short URL Link: 36 characters long
TinyURL Short URL Link: 26 characters long
WordPress

Short Link

: 22 characters long

Bit.ly:

21 characters long
HootSuiteShort URL Link: 11 characters long –

WOW! 

Hoot! Hoot! Tweet!

Tweet! 
1. 'Socialize Plugin' Short URL Links for Twitter

If you have the Free Socialize Plugin enabled on your blog, you can click directly on your own Tweet

Icon that this Socialize plugin lets you add onto every post you publish.
This is what a click on the Socialize plugin Tweet Icon gives me as my Tweet over at Twitter.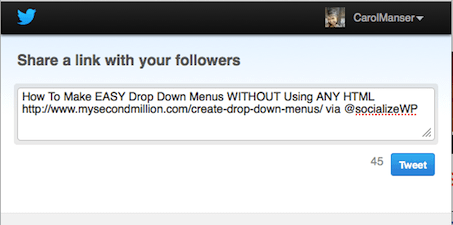 when you click on the Socialize Tweet Icon (see red arrow in above screenshot) the other screenshot above shows the basic Tweet that was sent via Socialize plugin: The Tweet above says:
"How To Make EASY Drop Down Menus WITHOUT Using ANY HTML http://www.mysecondmillion.com/create-drop-down-menus/ via @socializeWP"  = 128 total characters long!
So, using the Socialize Plugin for my Tweet, has used up (wasted) 128 characters out of my Twitter 140 character limit.  That leaves me only 13 characters (with spaces) to 'sell' my article.
Of course I can replace the Title of the post with a description for the post, but even the actual Socialize Tweet URL Link still uses up 72 characters just with the URL link alone.  That's even more characters used up than the original un-shortened URL.
Socialize Plugin URL Summary: using the Socialize plugin 'Tweet' icon to Tweet, is quick, easy, and convenient, but does not give the blog owner, a short URL. It just tags on the via @socializeWP onto the end of the original URL.
And, using Socialize to send Tweets also gives you no click stats, or a single dashboard platform where you can control all of your Social Media promotions, all from one place.
In other words the Socialize Tweet icon on your posts, is OK for your readers to Tweet on, so they spread the article for you, (please do), but for the author of the article, we can do much better.
2. 'Pretty Link Plugin' Short URLs for Twitter
Pretty Link – Pretty Link does have the advantage of keeping track of all your Click stats for every Pretty Link Short Link you create and use.  And you also have the advantage of having all your Pretty Link Short links right there on your WordPress Dashboard for easy access, along with the click stats for each one.
This is really helpful, BUT Pretty Link still includes the full URL of your website in the Link:
Using the same article as an example, Pretty Link shortens the original URL http://www.mysecondmillion.com/create-drop-down-menus/ = 54 characters long to:
http://www.mysecondmillion.com/js78  = 36 characters long  – that still leaves only 104 Twitter characters for your Tweet Description.
So even with a Pretty Link Short URL link, I have still wasted 25% of my Marketing promotional Opportunity.  Your Tweet description is your only way you can grab the interest of people who read your Tweet – and their eyeballs (with their attached clicking-fingers).
Pretty Link Plugin Summary: it does save all of your short URL links together on your WordPress Dashboard, but it uses way too much of your allocated 140 character limit, to be good for marketing or promotion on Twitter.
3. 'TinyURL' Online Short URL Links for Tweeting.
using the same Drop Down Menu article URL as the example, the original URL has a length of 54 characters and the free online website called: TinyURL, shortened this to:
http://tinyurl.com/ohkwg3w = 26 characters long.  Not bad, but Tinyurl saves no data, so there is no dashboard data for easy access to your previously created short links. 
4. WordPress 'Get ShortLink' for Twitter

How about using the Get Short Link option you have on your WordPress Editing Window?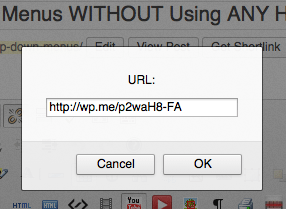 That WordPress Short URL Link gives: http://wp.me/p2waH8-FA  = 22 characters long.
WordPress Short Link Summary: Interestingly, although WordPress gives you no Saving, or click data, the short link they give you for each article stays the same.  Therefore you can always reproduce the short link you used before, by re-clicking on the Get Short link tab in your Editor window for each article.
5. 'Bit.ly' Short URLs with Links Data Dashboard
Using the same article's URL, Bit.ly is pretty good! It changed the original 52 character URL to:
http://bit.ly/18qJXS2 = 21 characters long.
And…. Bit.ly has a dashboard with options to save links into different folders (Bundles) plus click stats.

Interestingly, although when you copy/paste the bit.ly you get the http:// tagged on the front, you can omit the http:// and the link still works.
Without the http:// the bit.ly link is only 14 characters long.
However!….drum roll please, James!
6. 'Hoot Suite' URL Short Links are Shortest…and…Give So Much More!
ow.li/xxxxx = 11 what?? 11?? Yes! 11!
HootSuite
 is the clear winner of… The Shortest Short URL Shortening Software Shoot Out…try saying that fast after a red wine…or two.
But wait! There's more – there's MUCH more at Hoot Suite.  In fact, HootSuite
gives you so many extra options that I'm going to have to write a whole article just about the Hoot Suite software platform. It's a complete Social Media Management Tool!
And YES, dear TweetHearts, they have a Free Plan option! WooHoo! Tweet tweet! Hoot Hoot! HootSuite
is a HOOT.  Soon I'll report on the advantages of Bit.ly vs Hootsuite.
Don't forget, if you don't want to miss out on our free email updates, sign up HERE.