Many people want to submit their site to Yahoo! but don't know how to do it for free.  Today I found out how to do it.  The first thing I found out was that I was confused, and also behind the times – yes, I'm still making the stupid mistakes so you don't have to!
In this post, I will first explain how Microsoft, Yahoo! and Bing are now connected. Then I will tell you how to submit your site to Yahoo! and Bing, and sign up for the Bing Webmaster Tools Data Collecting platform.
Note: this is a different process from submitting your site to the Yahoo! Directory.  This article here explains how to get your site and articles listed and included in the Yahoo! and Bing Search Engines and get listed in Search Results.  Yes, lots of people do use Search Engines other than Google!
Update: I submitted to Yahoo and Bing 2 days ago, and I"m already getting new traffic from Bing and Ask search engines – it all helps, and submitting to Yahoo/Bing really does work to increase traffic.
Yahoo! Is Now Bing – and Microsoft Is In On The Deal Too.
Here is what I did, before I knew about the Bing/Yahoo! deal: I searched for http://search.yahoo.com/info/submit.html and clicked, and found myself being asked to submit to Bing!  Uh?? That is what sent me on the research for this article.
According to Wikpedia:
On July 29, 2009, Microsoft and Yahoo! announced that they had made a 10-year deal in which the Yahoo! search engine would be replaced by Bing. Yahoo! will get to keep 88% of the revenue from all search ad sales on its site for the first five years of the deal, and have the right to sell adverts on some Microsoft sites. Yahoo! Search will still maintain its own user interface, but will eventually feature "Powered by Bing™" branding. All Yahoo! Search global customers and partners are expected to be transitioned by early 2012.
What this means for bloggers today, is that if you want your site listed on the Yahoo! Site Index, you have to submit your site to Bing/Yahoo!  Doing that will allow the Bing (and Yahoo!) web crawlers to
crawl your website
start to list your articles in the Yahoo!/Bing search engine results
give you exposure to all the people using the Yahoo! and Bing Search Engines, looking for articles and information
and this will therefore bring you more traffic
Note: my Hosting company Hostgator provides a 'Submit your Site to Google' tool from Attracta, plus a 'View your Submissions' to see your listings in Google, Yahoo, Bing and Ask.  I had assumed that this meant my blog was being submitted to all those Search Engines, but NO!  The regular Submissions I was doing to Google, are just that: Google only.
I found out I was not listed in the Bing or Yahoo! Search Engine Indexes from an online SEO site. Doh!  Hence my research into how to fix it – and this article is the result.  Now I'm listed in Bing, and therefore Yahoo! too, and I'm already getting traffic from those new sources.
Once you have your website listed in the Bing/Yahoo! Index, more people will be able to find your website and its contents.  These people are different and new people – they are all those people who don't use Google Search Engine for all their searches, and there are more of them out there than you might think.
Here is a Summary List of What you Need to Do:
First, open up a Microsoft Account if you don't already have one
Secondly submit your site to either Yahoo! or Bing (the same thing, now).
Then, if you want to, you can add your site to Bing Webmaster Tools platform to get extra feedback and data about your blog's visitors, content popularity, backlinks etc
Note: It doesn't matter whether you set out to submit your site to Yahoo! or Bing, because these days, the Yahoo! Submit Your Site process is being automatically funneled into the Bing Submit Your Site process anyway.
Right!  Now we are all set – this is the process of submitting to Bing (and Yahoo!):
How to Open a Microsoft Account
If you already have a Microsoft Account you can skip this step.
1. Type 'Open Microsoft Account' in your favorite Search Engine e.g. Google.
2. Follow the prompts to set up your Microsoft Account using Microsoft's forms on the Microsoft website
3. After you have filled in the Microsoft 'Open Account' Form, Microsoft will send you a Confirmation email, sent to the email address you used to open the Account.
4. Click on the 'Confirm' link in that email.
Now that you have a Microsoft Account, you can sign in with it, to apply to submit your site to the Bing/Yahoo! search engines.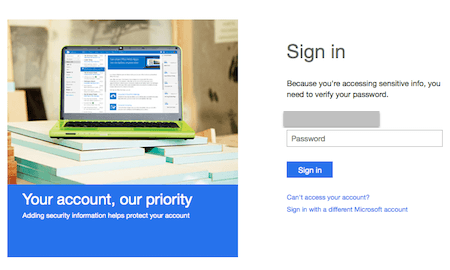 How to Submit and Register Your Site With Bing – previously Yahoo!
Once you have your email and password for Microsoft, you can Submit your site to Bing. Go to:
http://www.bing.com/toolbox/submit-site-url and Sign in –  there is a top right drop down menu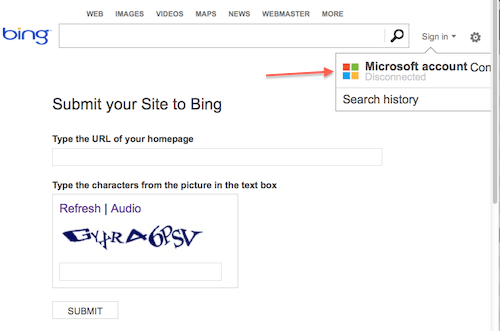 You will be asked to sign in via your Microsoft Account login details which you now have.
Then you are taken back to the Bing Submit Your Site page, with your login name showing top right, so you know that everything is set up for successful submission: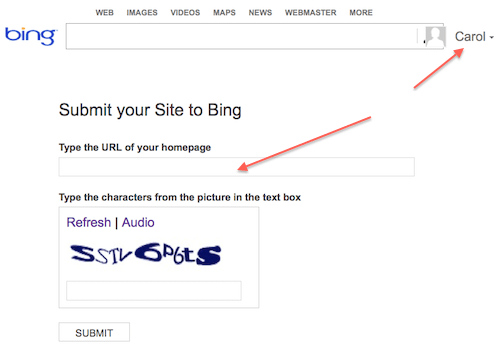 Enter your URL and the Captcha code, and click submit – All Done!
Now you can sit back and wait for all those lovely Yahoo! and Bing users to come to visit your blog.  Or….you can submit your site to the Bing Webmaster Tools platform.
How to Submit your Site to Bing's Webmaster Tools
This is very much like Google's Webmaster Tools platform, so you may decide not to bother with this extra step.
However, if you do want to submit your Site to Bing Webmaster Tools go to:
http://www.bing.com/toolbox/webmaster
Where you sign in with your Microsoft Account Login details.
You go to the Add your Site page:
Now you can fill out your Profile and organize the Settings that you want:
Once you have done that, you will be asked to verify your Site with Bing Webmaster Tools
Warning: This step is kind of tricky for non-geeks.
You have 3 different ways to Verify your Ownership of Your Site. You wlll see these options on the Verify Your Site page, as in the screenshot above. You will be shown links relevant to your own website, but I have made the texts below into 'yourdomain' for where you own url will appear:
Option 1: Place an XML file on your web server
Download BingSiteAuth.xml Upload the file to http://www.yourdomain.com/BingSiteAuth.xml
Confirm successful upload by visiting http://www.yourdomain.com/BingSiteAuth.xml in your browser
Click the Verify button below
Option 2: Copy and paste a <meta> tag in your default webpage
You can add a <meta> tag containing the authentication code to the <head> section of your default webpage.
<meta name="msvalidate.01″ content="XXXXXXXXXXXXXXXX/>  when you do this for your own site, you will see your personal Bing ID number there where I've blocked out mine with XXXs.
Option 3: Add CNAME record to DNS
Add CNAME (alias) record with name XXXXXXXXXXXXXXXXX and verify bing.com.
So your DNS provider will resolve host XXXXXXXXXXXXXXXXX.mysecondmillion.com to verify.bing.com.
How to add a CNAME record to: Here is a drop down menu to select the How To for most of the main Registrations sites eg. godaddy.com or networksolutions.com etc
All of which is fine if you can do one of those methods.  Me? I asked my Host, Hostgator to do that for me…and home in time for tea, tra la!
Good job!   Don't forget to sign up for email notifications of new articles and special deals in our Newsletter: just subscribe below: