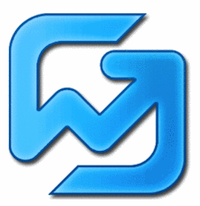 Keywords! Are you confused about which are your best keywords? Do you even know what your best keywords are?  Today, I've found you a fantastic Keyword Check Tool, and it's brilliant. I've been having such fun with this free rank checker all day.  It's like peering into Aladdin's Cave for Bloggers.
Imagine being able to use this Keyword Research Tool to check where all your best Keywords rank. Imagine knowing the SEO Rank Position of your top keywords in dozens of different search engines in dozens of different countries.  Imagine being able to see how they change their Keyword Rank Positions from day to day.  It is seriously addictive.
Keywords can be a bit of a mystery for Beginner Bloggers. The idea that we can rank for individual Keywords doesn't really occur to us – it didn't to me anyway, until recently. Up until a few weeks ago,  I've only thought about Ranking with articles, not individual keywords.  We set up a blog, and we write high content articles, right?  That's what Beginner Bloggers are supposed to do, so that's what we do.
Search Engine Page Rank vs Keyword Position Rank
We constantly strive to improve Page Rank and Traffic numbers.  And we do that by Optimizing our articles, our websites, and our backlinks so the Google web crawlers will select our articles to be included on Page 1 of Search Engine Results.
That is how we get Search Engine Visitors – we know that – but what I found difficult to get my head around as a Beginner, was that in fact, all Google Positions and Page Rank are built around individual Keywords and Keyword Phrases.  This can be a big problem for beginner bloggers. Beginner bloggers don't think in terms of key words, Keyword Rank, SEO Rank or Google keyword ranking position. Well, I didn't anyway.
When we start out, we are just trying to write high value, high ranking articles, right?  Yes, we do SEO keyword research so we can include a good range of the best keywords in our articles. We probably know about Keyword Density, and how to structure an article for maximum Search Engine Optimization.  That is where we all start.
We do keyword Research because we try to turn up on Page 1 of Google Search Engine Results (SERPs), get maximum exposure, and the maximum number of visitors possible. Right?  That is keyword research for writing high ranking articles.  But our own keywords?  Uh?  What does that even mean?
Once we start trying to use online SEO Tools to get information about our site's data and statistics, we start to see results and Stats for things like our Anchor Texts, Backlinks, Referring Domains, and Keywords.  OK, that's all very interesting, but what does this data tell us that we can use?
The Importance of SEO Keyword Position Rank
Experienced bloggers know what their best keywords are.  They even deliberately focus their website around a few well chosen Keywords, that they think they can rank well for – that they think they can get high Keyword Rank Position in search engines, and therefore get high visitor numbers – lots of potential customers.
But beginners? Not really. For beginners it's hit and miss, trial and error.  We check Webmaster Tools and there, we see a list of our blog's highest ranking Keywords – these are the words we have used anywhere in any of our articles that Rank highest in Google Search Results.  These are our Keywords with the best visitor pulling power.
But Keywords are not just 'interesting' for experienced bloggers. Experienced bloggers USE keywords to drive traffic to their sites. Experienced bloggers KNOW what their keywords are, and what their Search Engine Rank is.
How? By using SEO Tools designed specially to keep track of their Keywords, and to tell them if they are going up in rank or down: Keyword Rank Check Tools. Yes!
And today, friends, I have found a real winner for you! And me. Yes!  And it's free.  Yes, the free version of the CuteRank Keyword Check Tool gives you lots of lovely Keyword Rank Check information.
The CuteRank Free Keyword Check Tool

Click on the above image to go to the CuteRank Website.
Here's what the CuteRank website says about itself:
"CuteRank is a smart rank checker tool for webmasters, Internet marketers, SEO professionals, to "check" and "track" their keyword ranking performance on multiple search engines including Google, Yahoo!, Bing, Ask, and AOL."
And it's true. Check and Track your keyword rankings on multiple search engines.  The FREE keyword rank checker software that batch checks keyword position automatically.
There are 2 downloadable versions – one for Mac and one for Microsoft PCs.  BUT, the CuteRank Keyword Checker also has Pro versions.
The free version is good. But the Pro version is perfect.  The Pro version has all the bells and whistles, such as downloadable reports, daily updates, keyword tracking, the ability to save results and much more, for $59.95 – a one off payment.
This Keyword Check Tool gives you more data about your Keywords and how they rank, than you could dream of…nightmares? Of course not! Think positive!
Here are some screenshots of what you can expect to see for your own websites. You get to choose from a vast range of different search engines and which countries, that you want to include in your Keyword Rank Checks.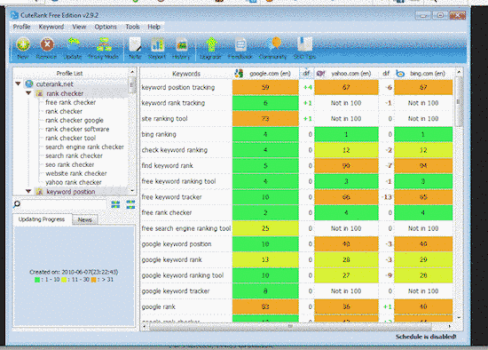 The CuteRank Keyword positions are color coded:
Green are Top Keywords: Positions 1-10 in search engines
Light green are: Keyword Positions 11-30 in search engines
Brown are Keyword Positions 31-100 in search engine
All the rest are 'Not in top 100' positions in search engines.
If you are not used to thinking about specific keywords and how they might rank in search engines, this Keyword Check Tool is a great way to start.
It's important to start to think in terms of specific keywords, especially if you plan to buy Adwords from Google to bring in Paid Traffic.  Knowing where your specific keywords rank gives you more control and insight into how your blog is attracting visitors…or not!
Also, because of the ability of the CuteRank Keyword Check to track changes in position, you can immediately be aware of any sudden dip in your Rankings, and check with Google to find out what's going on….Panda downgrade???  Aaaagh, that is bad news, BUT it's news you need to be aware of.  Because if you know about it immediately, you can do something about it, immediately – before too much damage is done.
There you go, folks, download the CuteRank Keyword Check Tool and have fun.  You will wonder how you managed without it.
I guarantee, you will find some surprises when you find you are ranking really well for a keyword you had hardly noticed before – then use it for all you are worth – and soon you will be 'worth' a lot more!
Don't forget to signup for email updates, and never miss out on new articles that will help you on your way to mega stardom, and an early retirement…..