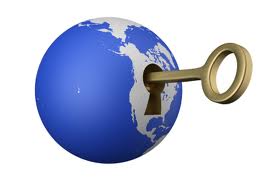 One of the best SEO secret weapons is The Keyword Density Analyzer Tool.  If you know how to use a Keyword Analysis Tool to your advantage, you will outrank your competitors for any specific Google Search term and show up as No 1 on Page 1 of the Google Search Engine Results Page (SERP).  And that is every entrepreneur blogger's goal.  Why?  Because that highly prized No 1 top position is guaranteed to attract lots of lovely traffic to our website, and traffic = money in the online world of blogging.
What is Keyword Density?
Keyword Density is the number of times a word or phrase is used in a piece of writing, divided by the total number of words of the article, and expressed as a percentage.  For example, if a specific word occurs 10 times in an article that is 500 words long, the keyword density for that word would be 10 divided by 500 x 100 = 2%.
Keyword Density Analysis is one part of what's called SEO On Page optimisation. Search Engine Optimization (SEO) is broadly divided into
On Page SEO – the contents and organization of your own website – and
Off Page SEO which is all the promoting you do outside your own website.
You only have to do the basic things well, to be good at Search Engine Optimization (SEO).  You don't have to perfect, or have fancy skills. You don't have to be an expert or have studied SEO for years.  You can do a good job optimizing your content with a few simple steps, once you know how.
How to Use Keyword Density Analyzer To Your SEO Advantage
In order to write articles with the best optimized keyword SEO, we need to be able to analyze our own use of key words, and also how our competitors are using key words in their articles. Our aim is to optimise our own content to match, or out-do, our competitors in the eyes of the Google web crawlers.
Google is impressed by numbers – among other things.  And we have to impress the Google web crawlers – because that is how Google collects, analyzes and ranks our content against the content of other websites.  If our articles don't rank well, they will be buried deep around page 103 of a Google search result, and no one will ever know they are there.
There are plenty of free Keyword Density Tool Analyzers available online. However, if you have already installed the you-beaut Free SEOBook Toolbar (see Install the Best Free SEO Toolbar) you already have a great Free Key word Density Tool, right there at the top of your computer screen.  If you haven't installed the Free SEObook Toolbar, you can get it here:
Once you've installed your SEO tool bar, you will be able to use the SEO Xray keyword tool.
The Free SEO XRay Tool
This Free SEO Xray tool provides us with a lot of useful information.  In fact, it's amazingly useful – and loads of fun.  It's part of what you get with the free SEObook Toolbar – a toolbar that's made and promoted by my new mate, the Big Cheese of SEO, Aaron Wall (Hi, Aaron!).
The SEO Xray tool is situated towards the right hand end of the toolbar:

We can use this SEO Xray keyword tool to
1. Check our competitor's use of Keywords,
2. Check the key word density of individual words and phrases our competitors have included in their successfully optimized content.

We know our competitors have successfully optimised their content if Google gives them a top placement in the Google Search Results Pages (SERPS). So all we need to do to find our top competitors, is to do a simple Google search for the topic of our article, and see who Google has placed in the first few slots of Google Page1 results.

3. We can look for relevant keywords or keyword phrases that our competitors have used, but keywords we might not have thought of, in our own research.  Then, perhaps we can use those keywords in our own article – but only if those key words are relevant to the topic we are writing about.
With all this data, we can compare their SEO data to our own. Then we know how our use of Keywords stacks up against theirs.  And if our results are woeful by comparison, we can set about improving our use of keywords, and compete effectively for the top spot on Google search engine results.  Here's step by step Guide on how to do it: 
Do a standard Google Search for your Topic
In this case of writing this article, I typed in 'Keyword Density'.  This is what I got: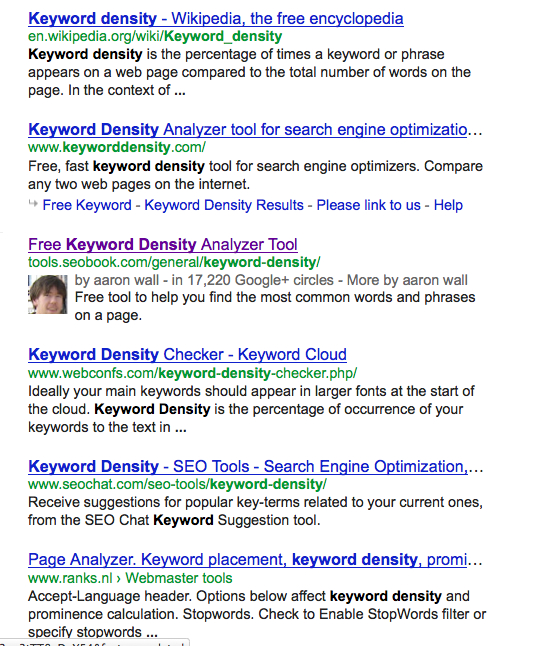 The 3rd article down is by Aaron Wall himself, and it's for an article exactly on Keyword Density!  This would be a great article to investigate to check out his keyword SEO…… and see how well he's done with his search engine optimization.
When the website page has loaded, click on the SEO XRay icon in the tool bar and you see this: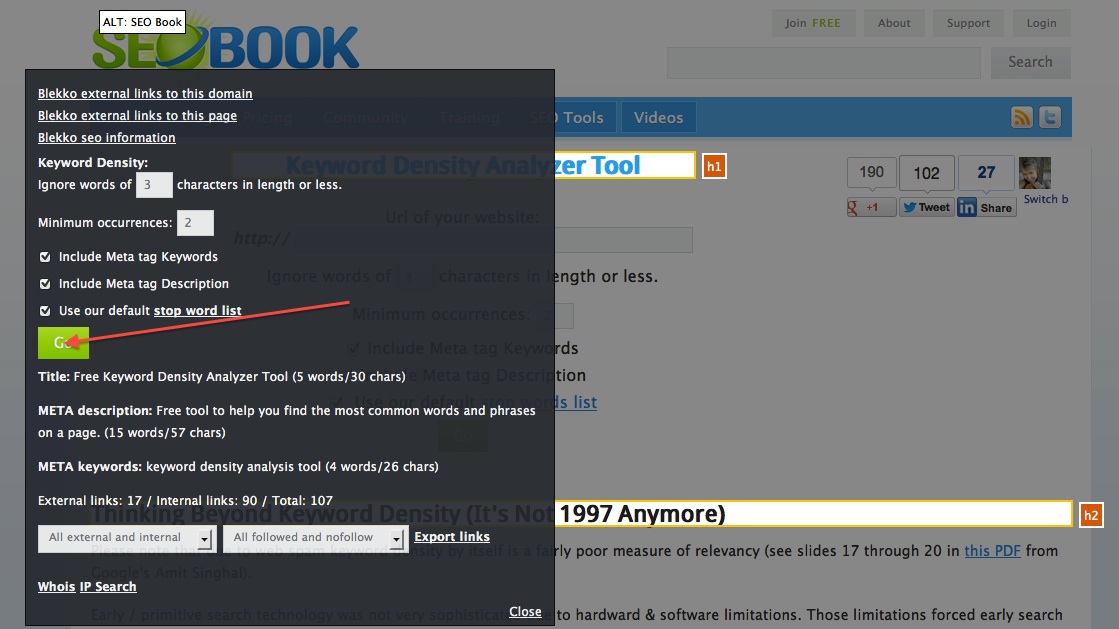 There's lots of useful info there, but in this article we are focusing on Keyword Density. The Keyword Density Tool is on the top left of the black background Xray you can see.  Click on the 'Go' tab (red arrow above).  This is what you will get: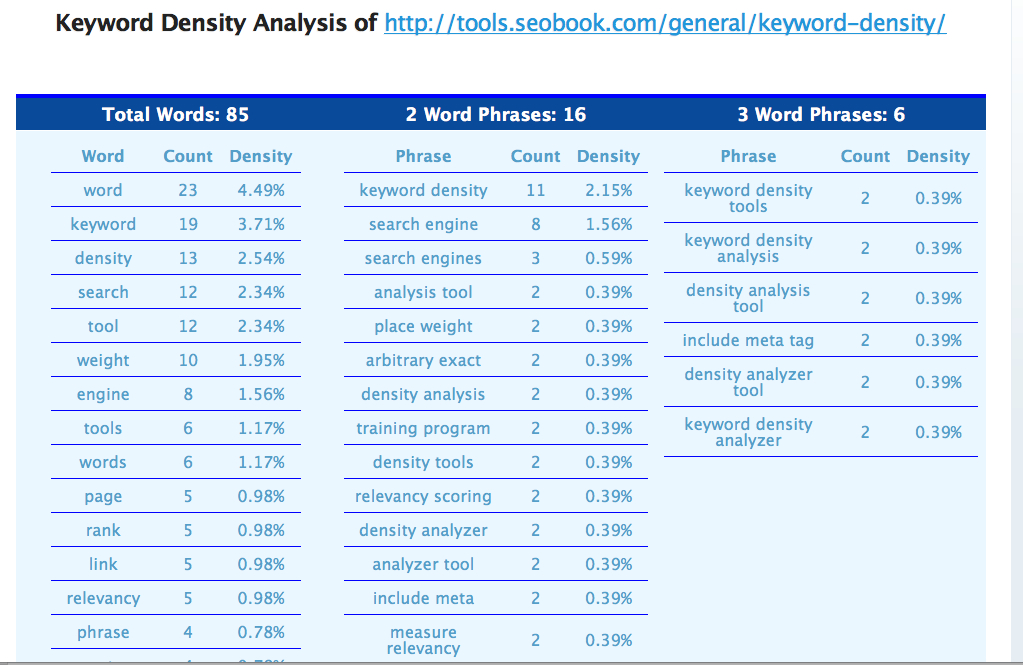 You will see the SEObook article's Key word Density for
One Word,
2 Word Phrases and
3 Word Phrases – these are their potential Long Tail keyword terms.
Not sure what a Long Tail Keyword search is?  Check out this article: Keyword Research Tool part1 
What to Look For In Competitor's Keyword Data
Check their keyword density stats for:
Which keywords have the highest keyword density
what that density is (a percentage)
Have they used the same or similar keywords to the keywords you plan to focus on in your article?
Are there other high density words or phrases that you missed in your research, and think you could seamlessly include in your written copy?
Do these keywords have high Global Searches and low Competition in the Google Keyword Research Tool?
If you see some potentially useful keywords or phrases that you've missed in your research, do a quick check in the Google Research Tool  to see if they have High Global Searches, and lowish competition. If so, snaffle them right now for your own article!
If you want to, you can repeat this competitor keyword check for a couple more of those Page 1 Google results if you want to. It's quite interesting to do, but you should not get lost in research, and never get around to writing your article!  Once you've done this process a few times, you will know what the keyword stats of a 'well optimized' article look like. Then you will be able to use the Keyword Density tool quickly in order to quickly check and compare your own work against the best, and make sure you are doing OK.
Write Your Article
Armed with all this keyword information, you can now write your article.  It's important that, to some extent, you forget the exact data results you've just unearthed.  This is because you must write your article naturally, putting in all the important facts and information into it, in a readable style.  However, because our heads are now full of what we know are the good keywords we want to emphasize, we will naturally write content that includes these keywords.  The result is that your writing will now naturally tend to include the important Keywords (relevant, high searches, and low competition) because we know what they are. 
Hmmm….. I seem to have a lot still to say on how to write your articles from a Keyword Density and SEO point of view.  But….ever-thoughtful as I am :), and ever-mindful of my lovely reader's precious attention span (and my need to do the shopping) I will continue this topic in the next article……How to Use SEO & Keyword Density Tools to Write Articles
Update: Now, I don't like to brag (would I lie to you?) but….a Google search today for Keyword Density Analyzer Tools gave me …..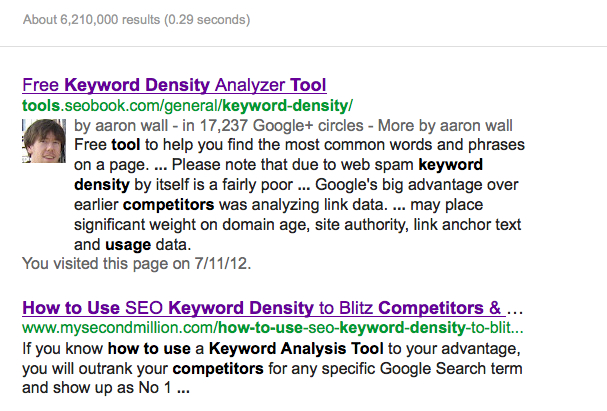 OK, Aaron, the Big Cheese of SEO is still in the top spot but….he he!
……..Cue Motto!
Plan Well Start Small Think BIG!