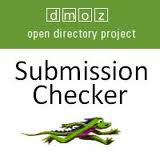 Successful submission to the Dmoz Directory is highly desirable because it boosts Page Rank. But Dmoz is highly selective – making a Killer Submission in the correct Category is the key to success.  Writing successful Dmoz submissions is not hard to do, but, if you don't take care, there are ways to ruin your chance of being admitted to the hallowed ranks of 'Super Bloggers with Dmoz Directory Listings'.
Killer Dmoz Submissions Are Successful Submissions
There are also ways to greatly increase your chances of success when you submit your website to Dmoz – ways to get your Dmoz submission accepted fast.  But you have to know how to submit your site to dmoz correctly.  Then your submission will be accepted, and then you can hang out with the Big Cheeses of Dmoz Mega Stardom with your very own, highly valued, Page Rank boosting, eat-my-dust, DMOZ Listing! …..I could be getting a bit carried away here 🙂 …..Settle down, Carol…..OK, will do.
Naturally, we are all budding Big Cheeses, so we don't want to wreck our online careers by making silly mistakes in our DMOZ directory submissions, do we…..
Things You Must Get Right To Get Your DMOZ Submission Accepted
1. If you haven't done so already, read my article: What You Need to Know About the Dmoz Directory.  That article covers the requirements required for all successful Dmoz directory submissions.  If you don't fully understand those submission requirements before you submit, you will probably fail with your Dmoz Directory submission.
2.  Only try to submit websites to Dmoz that fulfill the entry requirements of the Dmoz Directory. If your blog is full of ads, or fluff, or duplicated content, you will not get accepted by Dmoz.
3.  Do not outsource your Dmoz directory submission to a Commercial Subscription Service – it will be rejected.
4.  Do not use Automated Submission software – your Dmoz submission will be rejected.
5.  Do Research at the dmoz.org website – more on this below
6.  Make sure you are not already listed in the Dmoz Directory….how anyone could not know this is a mystery to me, but they do insist that you check first before you make your directory submission.  Besides, it's better to be safe than sorry – and no one wants to look like a complete goose.
7.  Find, and Submit to, the correct Dmoz directory Category – one of the most important factors. More on that below.
8.  Only submit one Dmoz submission per website or blog – duplicate submissions for the same website can result in neither submission being accepted.
9.  Write an accurate description of your website or blog in your submission
10. Stick within the required word or character limits.
11. Don't expect to get your submission reviewed quickly – again, read my article What You Need to Know About the Dmoz Directory.
You need to understand how the Dmoz Directory works, and how all Submissions are individually assessed by volunteer Dmoz Editors.  If you don't understand the Dmoz Review and Assessment process, you will end up angry and frustrated, and not a nice person to know. (My personal relationship advice is an added Free Bonus :))
Lets get started:
Submission Step 1: Research the DMoz Directory
How to Find Your Correct DMOZ Sub Directory  
1.  Search the Dmoz categories and drill down until you find the directory you think best matches your website's niche and content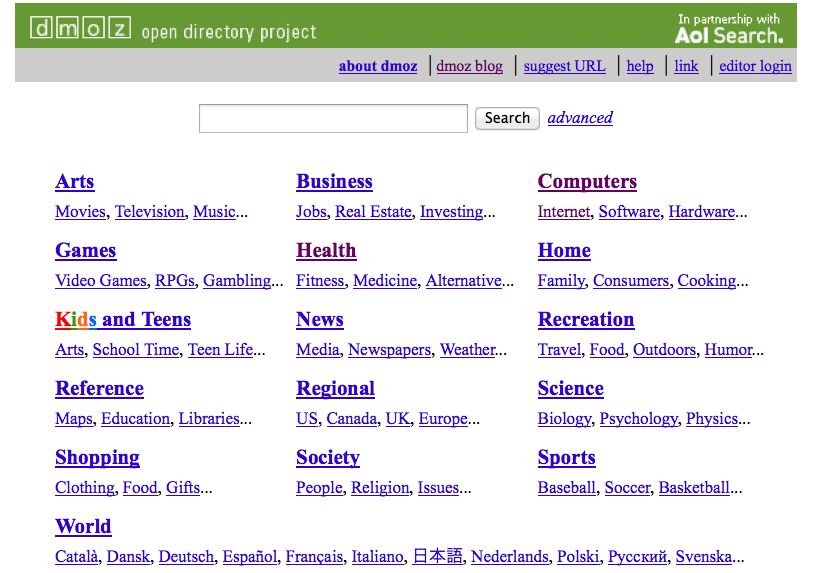 a. The Directory is organized from very broad Topic Areas, down to smaller specific niche sub-Directories.  We need to find the Directory that best matches the niche market of our blog. For example, a click on the Computers directory brings up this: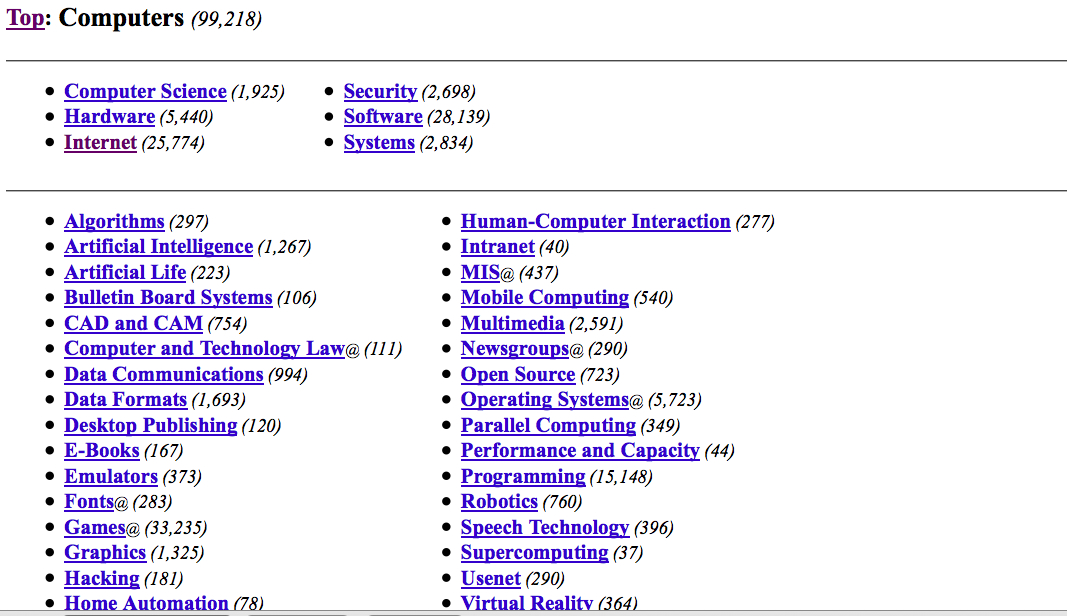 b.  If you think you might have found the correct Dmoz directory for your Dmoz Submission, click on the green Description tab on the far right of the Dmoz screen.  This will give you additional information about which type of website is best suited to that Directory. This Directory description will also sometimes give you suggestions about which other directory might be more suitable for your particular website niche.
c.  Also, many of the larger Directories do not supply the 'Suggest a URL' tab option at the top right hand side of the Directory page, under the green strip at the top of the screen.
We cannot submit to those directories without a 'Suggest URL' tab anyway, but worry not! Just keep drilling down to a more specific directory until you find one that matches your website, and does have the 'Suggest URL' tab at the top right of the page.
 d.  Dmoz Editors have the power to move any submission to a different Directory if they think we are trying to submit to the wrong one.   But we know our Niche and blog best – it's better for us if we make the most appropriate choice in the first place, rather than have the Dmoz Editors make that choice for us.
How to Check if a Particular Directory is the Correct Dmoz Directory For Your Website Submission
2.  Check out who is already listed there: do you see your competitors there? If not, you are probably not in your most suitable sub directory/category
Still Unsure? Do a Dmoz Reverse Search:
3.  Type in urls of one or two of your major competitor's websites, and see if they are listed in the Dmoz Directory – some will be there, and most won't!
Free Bonus: we can allow ourselves a quick moment of gloating before trying out our own luck with our own Dmoz submission.  And also… be able to take comfort and solace, should our Dmoz submission fail to impress the Dmoz Editors, and our submission is unsuccessful – having a backup consolation plan is always much cheaper than therapy. (Personal financial advice is another added Free Bonus)
 If some of your competitors do have a Dmoz Directory listing, you will be able to see which Dmoz Directory, they are listed in.  If we are in the same niche topic area as them, that is probably the best Dmoz directory for us as well,
Learn From Your Competitors
4.  Take note of how they have worded their website's description – the Dmoz site description is the equivalent of the Meta description that we write for our posts and articles.  See Meta tags, Title Tags and Meta Descriptions 
Why Should we take note of our competitor's Dmoz Directory site description?  Because they have already got Dmoz real estate at the Top End of Town – so we want to get clues from them, about how they sold themselves to the Dmoz editors, and got their sites successfully listed in the Dmoz Directory.
5.  Click on the Dmoz Directory your competitor is listed in: and see who else is listed in that category.  More people you already know?  You are probably in the right place. Now it's time to stake your own claim for real estate in the Top End of Town
Submission Step 2: How to Make Your DMoz Submission
1.  Go to the Directory you want to submit to. Make sure that the Directory you have chosen is an 'open for submissions directory' with a 'Suggest URL' tab, as explained above.
2. Write your Title. This is usually the name of your blog or website, but not it's URL.  The name for this website would be My Second Million.
3.  Write your Description. This Dmoz description is the equivalent of the Meta Descriptions you write for your blog posts
It should be an accurate description of your blog or website, but should also sound enticing to anyone reading it – try to make it 'click-able' – describe your website as a website that they would like to visit.  Again, check out how your competitors have 'sold' their websites to the Dmoz Editors, and try to write a similarly attractive description for you own site.
4.  SUBMIT your site to the directory.
What to Do While Waiting for the Dmoz Directory to Accept your Website Submission
Don't hold your breath
Take advantage of the research you have just done:
Go back to see all websites that have listings in the category(s) where your competitors were listed.
Here you have a you-beaut list of Potential Leads and Contacts!
Exploit The Lists of Competitors That Dmoz Gives You
Make use of the information that the Dmoz Directory gives you.  After all, that is the whole purpose of the Dmoz Directory – to be a valuable, high quality Resource for its readers.
Go to some of these websites who already have a Dmoz Directory listing (high value authority sites, by definition due to their inclusion in the Dmoz directory) and write brilliant comments on a few of your competitor's articles.  You will usually get a Hot Link for your own website embedded in your Name when you post your comment on their website.  Your comment will then be seen by that website owner, and also their readers (traffic).
That is a potential marketing opportunity for you, and it's free. If you write brilliant Comments on competitor's websites, it makes it possible for their readers to be so impressed by your knowledge, wit and all-round marvelous-ness, that they will feel compelled to click on your link to know more about you, and what additional info might be found on your website.
In this way, posting interesting and informative comments on high value websites in your niche, will bring traffic to your own site.  By checking out the DMoz directory listings in your niche topic areas, Dmoz has provided you with a ready-made check list of 'people you should try to impress and learn from'.  Use this information to your marketing advantage.
Not sure how to write brilliant comments? Here's how to do it: How to Write Brilliant Comments and Increase Traffic.
 Added Bonus: you might learn some valuable facts from these highly-valued-by-Dmoz sites.  These sites have been judged by the Dmoz Directory as having 'Authority' in their niche, and will have high Google Page Rank – they know their stuff, and Google loves them.  We want Google to love us too, so learn everything that you can from these competitor websites, and then you can blog about what you have learned on your own blog.
NB. Do not steal other people's content!  Learn from many others, do your own additional research on the topic, and then bring together all your new knowledge and write your own articles in your own words and style.
Not sure what you can learn from authority sites besides information and facts?  See Learn By Studying Other Websites
If you know how to make killer submissions when you submit to the Dmoz Directory before you make your submission, and you do your research into finding the correct dmoz category to submit to, your submission will get accepted, and you will get listed fast….. at least faster and with more chance of success than all the other, much-less-deserving bloggers in the world – those people who believe that the key to success is to wait for success to arrive without putting in the work. (Moral advice is my final Free Bonus for today

)
……Cue Motto!
Plan Well. Start Small. Think BIG!
BTW: I know you lot! The first thing you will do, is to go and check to see if I have a Dmoz Listing…..well, I'll save you the bother – I don't have one….yet!  I only applied about a week ago so I'm staying calm and preparing myself for success!  Should I get my Submission accepted, believe me, you'll be the first to know. Watch this space!  …..Update: still waiting…
Why not pass the time by Subscribing to our you-beaut Email Updates?  It's easy, and it's free: just click on the link below: