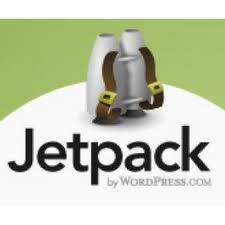 Know exactly how your blog's doing with brilliant Jetpack plugin. No more checking endless websites for info – see all the answers right there in your Dashboard  This article is both a WordPress tutorial, and a Review of the Jetpack Plugin for WordPress – a powerful free WordPress plug in, that displays all your website data, statistics, social media stats, and much, much more, right there in your Word Press Dashboard!
It also adds a swag of you-beaut WordPress Widgets to play with, plus added extras, like Contact Me forms, Subscribe to this blog via Email Form, RSS feed widgets, and enough website stats and data to keep even the most obsessive Stats Checker happy – and all without leaving Home to get them!  It's one of the best WordPress plugins I've seen.
I'm very impressed with this powerful plugin – can you tell?   And no, they aren't bribing me with goodies (cash, or anything) to say so…unfortunately.
What is a Plugin?
Plugins are clever software thingies (I'm not a geek) that do all sorts of clever and useful things to help you manage the workings of your blog.  For example, Google Analytics plugins, or SEO plugins.  See my article  Review Best Free Must-Have Plugins.
You install Plugins from the WordPress Plugin Directory by going to your WordPress Dashboard, selecting Plugins from the Menu on the left hand menu, selecting 'Add New'.  Then you type in either the exact name of the WordPress plugin you want, or you type in a search term in the Plugin Search box.  Then, your WordPress website software will dish up to you a number of plugins that will do the particular task that you searched for.
You then check out the plugins by reading the Plugin description displayed on your Dashboard next to the plugin, or click on the link 'Go to Plugin Site' to be taken to the WordPress Plugin Directory where the maker of the plugin has more detailed information about what the plugin does, Installing Instructions, screen shots and testimonials etc.
What is the Jetpack WordPress Plugin?
It was originally only available to bloggers using using wordpress blogs on the WordPress.com platform – the non self-hosted website platform. The WordPress.com platform is not the WordPress.org platform which involves having your own Web Host and where your blog is independent of any constraints on how you can use it.
For more info on various blogging platforms, and what is involved when you set up an independent WordPress.org blog, see my articles
But now, it is possible to get Jetpack plugin downloaded and installed, onto your independently hosted WordPress.org blog.  And you also get access to a whole swag of extras that were previously only available to WordPress.com bloggers.
  How to Install the Jetpack WordPress Plugin
You find and install the Jetpack plugin in the usual way:
1. Go to your WordPess Dashboard.
2. Click on Plugins in the left hand side wordpress menu
3. Click 'Add New' plugin.

4. Type 'Jetpack' in the Search Plugins box and click Search and you see this:

If you click on the 'Details' link you get taken to the plugin's webpage at the WordPress Plugin Directory, where you can find information and reviews of the Jetpack plugin:

But you don't need to download the plugin, and then install it by hand from there. There is an easier way to install it.  Just go back to your WordPress Dashboard, Plugin screen, and click on the 'Install' tab, for the Jetpack plugin.  In the same way that it always happens with every new plugin installation, you will then see this screen: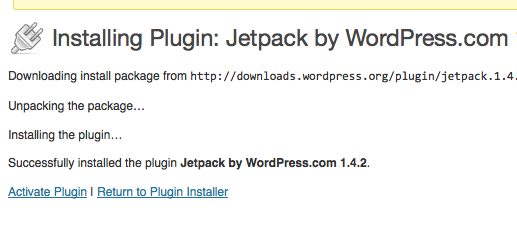 Click on 'Activate Plugin' and you see this at the top of your WordPress dashboard:

Now you have to take an additional step:
you need to open a free account at WordPress.com –  unless you happen to have one already.
Open a Free Account at WordPress.com
WordPress.com is the blogging platform where you do not have to host your own website with a purchased, independent Hosting company, such as Hostgator or Godaddy.  A WordPress.com blog is hosted within the wordpess.com website itself, but those sorts of blogs do have some limitations on how you can use them.  However, we want to install the Jetpack Plugin, and to do that, we need to open a free account at WordPress.com, but without using it as our blogging platform.  It's no big deal – it's easy and free.
Once you have your free WordPress.com account, you can connect/link your Jetpack plugin (installed on your wordpress.org blog) to your to your WordPress.com account, and start getting SEO and other website data.
You do that by clicking the green Connect to WordPress.com link on the right hand side on your wordpress dashboard – see right hand side of the above image.
Then you see:

and you can see 'You're fueled up and ready to go' on your screen:

Now you can see the many options that the Jetpack plugin gives you.

The options include such things as a Contact form to install on your blog, a Subscribe to this Blog via Email, and lots of lovely widgets and gizmos to play with.
After a few hours, the Jetpack plugin begins to collect data, and display it on your dashboard when you click on Jetpack Site Data.  But….the big plus of this Jetpack Plugin, is that you can now add the you-beaut WP-Stats-Dashboard Plugin!
Now….You Can Install the WP-Stats Dashboard Plugin!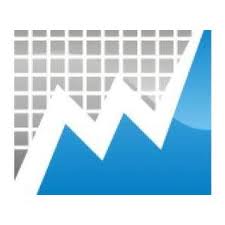 The WP-Stats Dashboard plugin for word press, gives you a whole swag of extra stats and data right on your WordPress Dashboard, including  48 stats from 31 different sources all right there on your Dashboard.
You are able to monitor your website traffic and ranking across multiple sites without ever leaving home. You get Instant graphs, Traffic, Alexa rank, Technorati authority stats, social media feedback & much more.
For a detailed, step by step guide on how to install and set up the WPStats Dashboard plugin on your blog, see my article: WP Stats Dashboard Plugin: Get Instant Stats on Your Dashboard.
And don't forget to add to your arsenal of SEO weaponry by installing the free, you-beaut SEObook Toolbar
Here is an article that tells you all about how to install it and optimize your competitors into oblivion…yes!
SEO Tutorial: Get The Best Free SEO Optimization Toolbar
Now you are all set! No more excuses!  Going up? Or going Down? Now you can see how your blog is progressing (or not), and if the graphs and stats aren't looking so good, you can see where you need to put in the extra effort.  If you do all the basic things properly, your stats will all be going up.  That is very encouraging  to see – and spurs you on to mega-stardom!
Have you set up a blog yet? What? Too busy? Nonsense! Just do it! It's great fun – see if you can beat me to my first million – or the second if you prefer……
…………Cue Motto!
Plan Well. Start Small. Think BIG!
Update: Breaking News!  If you go to your WordPress.com account and login, you can access lots of you-beaut Jetpack stats right there at WordPress.com! Even more than you get from Jetpack on your WordPress.org dashboard –  I know, it's exciting news isn't it……