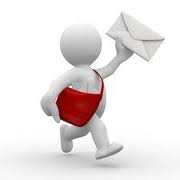 Knowing how to add a Subscribe via Email option to your blog is a good way to start building your List of loyal subscribers. Building a list is regarded as being very important in the blogging world.  Why? It allows you to engage with your readers and send them emails about any, and all, of the new and exciting things happening at your place – your blog.
If you build your list by having a 'Subscribe via Email' linked to your Feedburner RSS feed (see RSS Icon on the right – please do 

), the process is automated for you by Feedburner.
Update: Since first writing this article, I no longer have the full Subscribe to RSS via Email Form in my sidebar, and have only the RSS Icon and Subscribe via Email Link (No 2) in screenshot below.  These links take you to the Feedburner Sign up Form. The RSS Form had to go from the sidebar, because I added the blue Subscribe to our Newsletter Form at the top of my sidebar instead, and there wasn't enough room in the sidebar for both forms, plus all the other important links.
This is what the Subscribe to RSS Feed Form via Email added via a Text Widget looks like when added via a widget into your sidebar (No 1):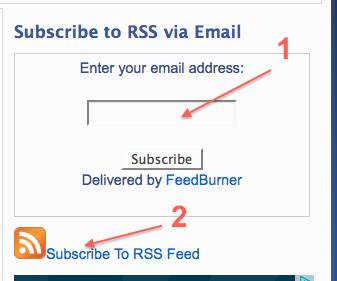 And below the RSS Form Widget (No 1) is the separately added RSS Icon and Subscribe Link (No 2).
Choosing either of these options takes you to the Feedburner Signup Form with a choice to Subscribe either via a RSS Reader or by personal Email.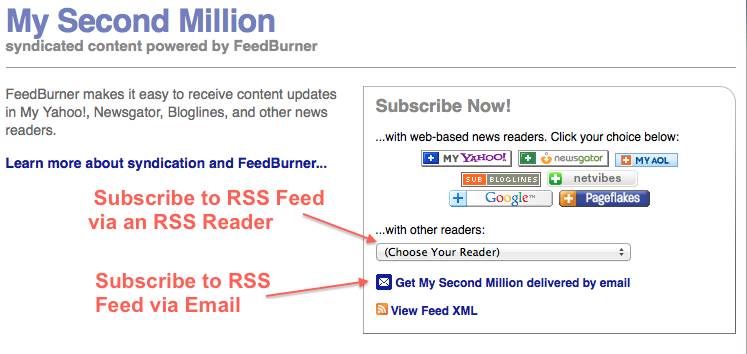 The advantage for your readers of choosing the Subscribe via Email option is that they don't have to keep checking their RSS feed reader (if they even know what an RSS reader is) to see if you've posted any new articles – I always found that a pain in the neck – they can receive a personal email, right into their very own Inbox every time you post a new article!
How to Add The Feedburner Email Form Using a Text Widget
To get your Subscribe via Email widget from Feedburner you first have to organize an email account for your blog or site.  See article How to Add Email Accounts to WordPress Blogs. 
If you don't yet have a Feedburner RSS feed with the icon and a Subscribe via RSS option – see right sidebar of this stie, see Easy Guide How to Add Feedburner RSS Feed to Your Blog

How to Add Feedburner's RSS 'Subscribe via Email' Widget
Go to your Feedburner Account and click on your domain name. This takes you to your Feedburner options screen:
select 'Publicize'(No 1) from the top line menu of options: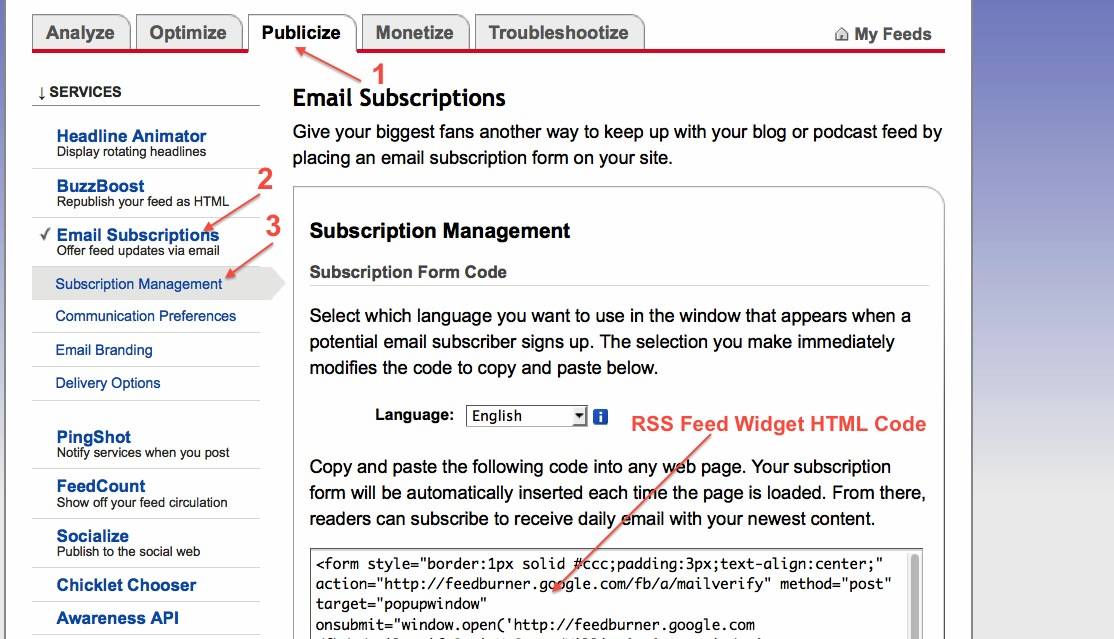 On the left of this screen you will see Email Subscriptions (No 2). Click on Subscription Management (No 3).
This takes you to your Email Subscription Management screen:
Lower down on this screen you will see some HTML Code in a text box.  Select and copy this code using your mouse.
Go to your blog's Dashboard, and drag a Text Widget from your 'widgets available' area to wherever you want to place your Subscribe via Email form.  Paste the code you got from Feedburner and Save.
If you aren't sure how to add widgets to your blog,  see How to Add Banner Ads to Your Blog.
Then check out your site and marvel at your cleverness!  Cool isn't it?  But don't relax quite yet, we're not quite done.
Go back to your Feedburner code screen, and check the box at the bottom of that screen so you get notified whenever anyone unsubscribes from your blog.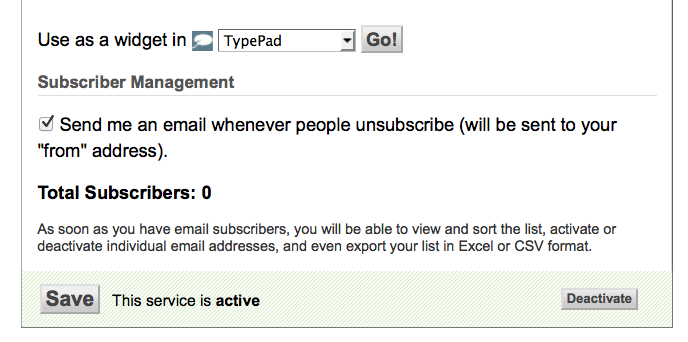 Then click Save. Yes, it's hard to believe, but it is just possible that one of your subscribers decides to miss out on being notified of all your wonderful informative posts, but we do have to be realistic.
However, I don't recommend taking the issue any further if anyone decides to unsubscribe – that would be the time for a bit of inward reflection, not violence……then consider your options.
But wait! There's more!  Just when you think everything is nicely set up and you're awaiting for your first email subscribers to show up, you need to check that your Subscribe via Email Form actually works.
Check That Your Feedburner Email Link Works!
Yes.  You guessed it, the RSS Link I installed on my other site did not respond when I tried to sign up to my own blog – I entered my personal email address and clicked Submit……nothing!  it just sat there refusing to do anything. Right! Call to action!
To get my Link working properly, I re-copied the Feedburner code from my Feedburner account for that site, deleted the old code I'd pasted in my blog's text widget, and pasted the fresh code into that text box and updated.  Bingo! That seemed to fix it.  Now it works fine.
Those of you who are still paying attention might have noticed that one of the screenshots above shows Subscribers Nil…..well,  that was because it's a new account, and….I didn't notice it wasn't working properly until this morning……
After you've done this and your link is working properly, you can decide on some additional Feedburner email preferences.
Under the Email Preferences on the left of your Feedburner screen, there are other options that allow you to personalize your email message in several ways.
How you choose to do that depends on your own preferences and how you wish to interact with your subscribers.
    My reserve Motto today I think…..
            I Make The Stupid Mistakes So You Don't Have To!