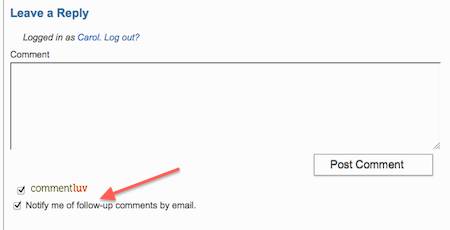 Until a couple of days ago, I thought I had my Comment Reply Notifications sorted.  I was wrong.  I did some testing and discovered that even though I had the Check box ticked for 'Notify Me By Email of Follow Up Comments on this Post', it wasn't working.
Comment Reply Notifications are those Check boxes you see in a website's Comments Section – usually just below the Comment typing window. See the screen shot above.
I had been using the Comment Reply Notification Plugin. It used to work OK, but now it wasn't!  Over the next 2 days, I wrote many test Comments against different Comment and Discussion Settings to try to figure out what had gone wrong.  I found there was a clash between my Jetpack Stats Plugin, my WordPress Discussion Settings, my Spam Free WordPress Plugin settings, and my Comment Reply Notification Plugin.  Aaaah!
To see how I finally Customized the WordPress Discussion Settings, and the Stop Spam WordPress plugin, and the Akismet Anti Spam Plugin so they all worked together, (and with this Jetpack Comment Reply Notification option as well), please check out the the previous article: 
How to Customize Comment Discussion Settings in WordPress.
All these different plugins and add-ons needed to be set so they can all work with each other, and so the settings of each one, did not interfere or block, the function of the others.
But my Comment Reply Notification system still wasn't working.  And my Commentluv links were still dead links as well.
[I'll cover how I sorted out my Commentluv Settings in my next article, together with how to allow Author and URL links in your Comments section so that people who make Comments, have the option to add an Author Link or a Website link]. 
 

The Comment Plugin Settings That Worked: All Sync'd Together & Working With No Plugin Clashes
The easiest way to tell you what does work, is to spare you all the combinations of Settings that didn't work, and show you instead, what my own Current Settings are now…after I'd got it all untangled and sorted.
Reminder: The Settings I sorted out to untangle the Stop Forum Spam plugin, the WordPress Discussion Settings, and the Akismet plugin are covered in How to Customize Comment Discussion Settings in WordPress.
Feel free to copy these settings for your own blogs.
Now, lets tackle the Comment Reply Email Notifications options:
First: I deactivated my Comment Reply Notification Plugin – because I couldn't get it to work anymore.  I thought it might not be working because my Jetpack Plugin had somehow taken over-riding control of my Comments Form.
I really didn't want to ditch my Jetpack Stats Plugin because it gives me so much really useful data and feedback, right here in my Dashboard, so I ditched my previous Comment Reply Notifications plugin, and went with the Jetpack Reply Notification system instead.
If you are not sure how to find and install Jetpack Plugin, see How to Install The JetPack Plugin.
How to Customize JetPack Comments Settings
I investigated, and found the location of the Jetpack Comments at:
WordPress Dashboard>JetPack>Jetpack (Not Jetpack 'Stats')>JetPack Comments>Learn More: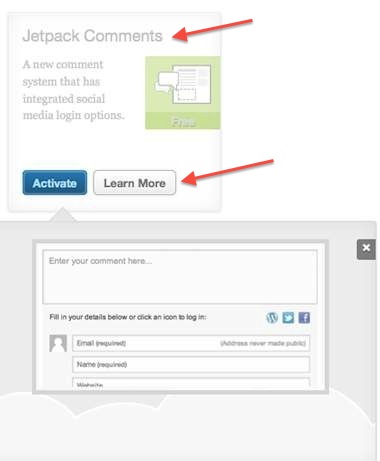 If you click on that Learn More, you see this screen:

The text there says:
Jetpack Comments
Jetpack Comments enables your visitors to use their WordPress.com, Twitter, or Facebook accounts when commenting on your site.
Jetpack tries to match your site's color scheme automatically, but you can make manual adjustments at the bottom of the Discussion Settings page
And they really do match up the color scheme from your blog and provide you with a very attractive 'Confirm Follow' automated email.
Next go to your Dashboard>Settings>Discussion: and scroll right down to the bottom of that page.
There you will find the Jetpack Subscription Settings:

I chose to allow 'Follow Comments', but not allow the 'Follow Blog' option.
Why?  Because if someone wants to 'Follow' my blog (please do), I want them to do it by subscribing via my semi Automated (and classy :)) Subscribe Form (see the blue MailChimp signup form at the top of my right hand side Sidebar). Update: I changed my Sidebar Subscribe form to the Mailchimp 'thin' form because it takes less sidebar space.
If my Subscribers choose to subscribe via this MailChimp Subscribe Form, it is less work for me, they are less likely to be 'missed' by me, and Subscribers that signup via the Subscribe Form get the fabulous free bonus of our email Newsletter updates, News and gossip!
I also found that Jetpack did actually send out the Notification Confirmation emails to Follow Up Comments when they 'say' that they will.  Also, their Notification and Confirm email they send out is very attractive.
BUT you will have to make a genuine (Non-spam) Comment and tick the 'Please Notify Me By Email' Check box if you want to see that for yourselves.
So… I ditched the Comment Notification Plugin that wasn't working (sorry guys), and went with JetPack Comments option instead.
I tested, and….. it all worked. Brilliant!
How Jetpack Works When You Subscribe to a Comment
From a Commenter's point of view, once you make a Comment, and if you have checked the Notify Me By Email Option, you get an email with the 'Confirm' option that you have to click to complete the process.

And when you click on that Confirm Follow tab, you get taken to a WordPress.com page, where you can see all the Comments that you are currently 'following'.  And not just the Comments you follow in this site, but on any site which uses the JetPack Comments system, and where you have subscribed to be notified of any additional Comments.
Here is how WordPress.com displays the Comments you are currently Subscribed to: this is what I saw when I completed a test 'Subscribe' to the Comments section of the Weaver II Theme 'Post Meta Info'  article here at MSM.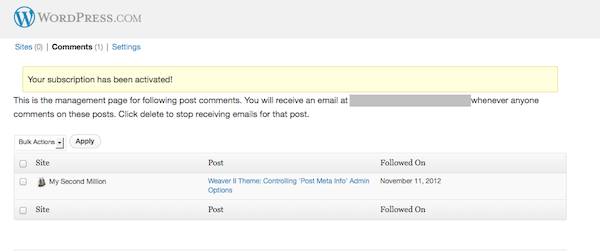 Alright.
So far we have untangled the Spam Free WordPress plugin, the Akismet Anti Spam plugin, and the Jetpack 'Notify me by email' subscribe options – both in the WordPress Dashboard>Discussion section, and in the individual Plugin Settings (Dashboard>Settings>Spam Free WordPress).  And organized the Settings so they all work together.
Now, there is only the Commentluv plugin, Gravatars, the Author Link and Website URL link options still to sort out.  That will be covered in my next article….coming soon (before I forget how it was done!).
OK friends, we are on the final lap – time for some well-earned chips. Yes!  Meanwhile….why don't you Subscribe to my you-beaut (and classy) Newsletters?  It's easy – and it's free!   Go on….you know you want to……

.