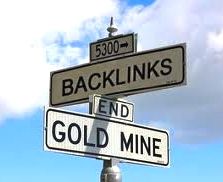 Finding dofollow links and backlinks, is like panning for gold.  Bloggers spend a lot of time searching for, and chasing Dofollow links to impress the Google web crawlers. If you are trying to impress Google with the value of your Content, and Authority (and who isn't?), you need to find Blogs, Forums and High Page Rank websites where you can add a Dofollow Backlink Comment. They are not easy to find.
Bloggers need information if we want to succeed, and we need it fast. If it is also free, so much the better.  Time is money, and there are always too many jobs to do when running a successful Blog.  Today I can bring you a Back link Tool that is cool, incredibly useful, fast… AND it's Free.  It's my number one Tool for finding and building those all-important Backlinks!
Back links Are Vital for Increasing Google Page Rank
If you want to have a high ranking and successful blog, you need to play by Google's rules and Guidelines.
Google guidelines say, it's the number, type, and quality of your links and backlinks that are the main factor that Google uses to assess, and Rank, the Value of Competing websites.  In fact, Google assigns Page Rank based on the number and quality of your backinks, more than any other factor. Yes, we are all competing against each other, for favorable listings in Google's Search Engine Results (SERPs).
So, like it or not, that is how Google plays the game of 'favorites' in it's Page Ranking system.
If you can manage to get a Dofollow Backlink from a High Page Rank website, you have struck Blogger's Gold.  Because, then, you have a link from these High Page Rank website, directly linking back to your own website, and that is what impresses Google most.  Google calls this Authority Flow – like water, from high to low.
Google assumes that having Dofollow Backlinks from websites with High Page Rank (and therefore, high Authority), means that we too, have a fantastically valuable and useful website.  As ever, it's not WHAT you know, but WHO you know, that counts.  Having friends and influence in high places always wins the Blogger's Lottery.  This NoDofollow backlink Checker helps you track down these friends in high places.
But….you also need to have a mix of nofollow and dofollow backlinks. Why? Because that 'tells' Google that your links were gained by your natural surfing around the internet, and were not bought, or swapped, or manipulated in some way, and therefore classified by Google as 'un-natural links' – Beware! Page Rank downgrade imminent!
For more information about Google's Rules, the Panda and Penguin updates, and the different values and types of links and back links (dofollow vs nofollow) see:
Panda and Penguin Updates: Who's Afraid of the Big Bad Google?
Different Value Backlinks: How to Hunt The Best Ones
Cool New Way to Get Backlinks!
Backlinks, Authority, Page Rank & Traffic: Why You Need Them
So, to play the Game, what some people call, The Google Dance, you need powerful SEO Tools to tell you what you need to know.
Bloggers Need Tools to Give Them Fast and Reliable Backlink Information
So bloggers have a problem.  Bloggers need a way to know what sort of links and backlinks are available on other people's websites.  Dofollow? Nofollow? We need to know – and I've found a fantastic, you-beaut Backlink Checker Tool that will tell you all this information with one click of your mouse.  YES!  And…it's free.
Drum roll, please, James……introducing:
The Super Cool, Free, DoNoFollow Backlink Checker For Bloggers
It's a free Add On for Firefox, or Chrome.  It's compatible with Microsoft and Mac.  It's the best thing since sliced bread for aspiring Big Cheese Bloggers (like us).
To install it as an Add On for your favourite Browser (FireFox or Google Chrome) do a Google search for the NoDoFollow add-on.  Download the Add On suitable for your favorite Browser,  and restart your computer.
Be prepared to be amazed!
Go to a website – any old website, it doesn't have to be your own.  Right click with your mouse, you will see the usual drop down menu (Back, Reload, Save Page As, Bookmark This Page etc) PLUS a new DoNoFollow option.
Click on the NoDoFollow option, and the webpage you are looking at will be instantly transformed!  It's amazing, and a bit of a shock the first time you do it.
ALL the links on the page will be high-lighted: blue highlight for the highly prized dofollow links; red highlighted for nofollow links.  It couldn't be easier.  Yes, you have struck Blogger's Gold.
It takes a while to get used to, but this is incredibly valuable information for Bloggers. The Backlink checking problem is solved instantly, with one click of the mouse.  Within minutes, this one Add-On Tool will be an essential part of your Blogging Day.  You'll wonder how you managed with out it.
So, no excuses now: go out there and knock 'em dead.  Knock your competitors off their pedestals (and tell them I sent you

)
Never miss out on the latest News and Information from My Second Million – Sign up for our email Updates TODAY