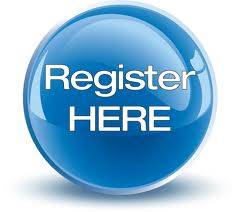 Who hasn't sometimes been confused by these terms?  I know I have. Some sites use the terms Subscribe and Register as if they mean the same thing.  This can spread confusion and frustration among internet users.
If someone Registers on a website, they become Registered Users. Unless the site tells you that you will get some extra privilege for Registering, you will get no extra benefit from Registering.
A common reason why you might want to Register on a website, is Registering on a Forum. You usually have to Register on a Forum before you are allowed to Post questions on the Forum.
If someone Subscribes to a website, they consent to be put onto an Email List in exchange for whatever the website has offered to give them in exchange for their Name and Email Address details. Because of this Consent/Confirmation to receive Emails, Subscribing to a Website is not the same as Registering with a site.
Subscribers
On this blog, Subscribers are the lovely people who sig Subscribers using the MailChimp Email Auto-responder software. New Subscribers are autn up to receive regular email Newsletters.  I organize the data-base for my Newsletteromatically added to my MailChimp Email List.
Anyone can Subscribe to my free Newsletters via the blue Form at the top of my right hand sidebar (please do ), or via the Subscribe Link in the Footer area of this site. Here's what my Subscribe Form looks like: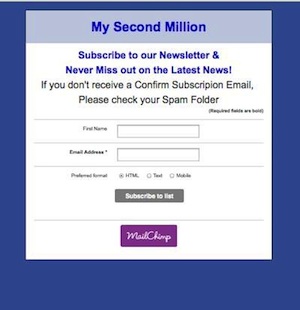 To see how you can design your own personally designed Signup Form, and automate the User Base and Mail Outs of Your Subscriber List, check out the articles posted in my Category: Auto Responders.
There you will find reviews of several autoresponders.  Also why free MailChimp is the Best Email Autoresponder for websites with a small Email list of Subscribers.  There is also a detailed article with Links and Screenshots, that takes you through the process of  designing and displaying a Subscribe Form that you design yourself with the help of the MailChimp design software.
 Registered Users
Registered Users are people who use one of 2 methods (front door or backdoor) to Register on any WordPress website that allows Registered Users.  Allowing Registered Users is an optional option on all WordPress sites. Some sites allow people to become Registered Users, and some do not.
Website Admins can find their Registration options at Dashboard>Settings>General.

Here you can see where some of the confusion starts: WordPress describes people who Register, and therefore become Registered Users and listed as Registered Users on your WordPress Dashboard, are also described here as Subscribers!  Nice one, WordPress! More on this below.
Here's what my new customized Registration Form looks like: standard WordPress Forms are so boring …..
Yes, I'm bragging (just a little ) because my new you-beaut free Plugin S2Member Plugin allows you to customize your own Login and Registration forms – and lots more goodies besides.  I'll explain all of the great advantages of the free S2Member Plugin in my next article.
On this site, Registration now gives Registered Users extra linking privileges when making a Comment, courtesy of the Commentluv plugin.
Check out the Comments section that are visible at the end of all my articles to see how this works, and what these extra privileges are.   I will explain how the front door and backdoor Registration process works later in this article.
The only other way to directly follow this blog is via the RSS Icon link in the right hand sidebar below the blue Form. (You can follow me indirectly – off site – on Facebook as well).
People who Subscribe to my RSS Feed (and RSS feeds on most other sites) have the choice to either get email notifications of updates in their personal Inboxes, or get notified via an RSS Reader.
If you sign up for either of these 2 types of RSS feed, you will always get immediate notification of all new articles published on My Second Million (Subscribe to my RSS Feed by clicking on the RSS icon in the right hand sidebar).
If you want to know how to add an RSS Feed to your blog, check out the articles in my Category: Feedburner RSS Setup.
Login Forms, Tabs and Links
The Login Form is the standard WordPress Log In entry gateway for all WordPress Websites.  Even Admin staff and blog owners have to Login to gain access to their own blog.  And websites that give access to Paid Content, or to special additional privileges, require Registered Users to Log in via a Login Form as well.
For example, most Forums require you to first Register and Login before you can have Posting Privileges.
If you do not have your own Username and Password for a site (any site), you will not be able to open this Login barrier door if it is standing between you and protected access or content of some sort.
Here's what my new customized Login Form looks like: Registered Users have to Login one time only as the second stage of your initial Confirm Registration process – and standard WordPress Login Forms are also sooo boring…. …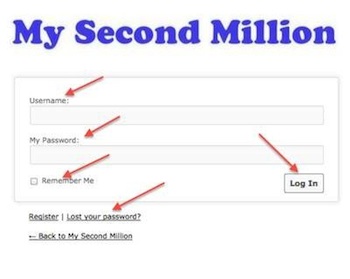 Even if you have been given a Password during the Registration process to become a Registered User at a website, this Login access entry point will never allow you into the Admin area of any site.
The admin area of any website is securely protected behind WordPress Protection software that is only accessible by recognized Administrators of the website with their own secure login system.
The standard URL Link for all Login forms on WordPress websites is:
http://name.com/wp-login.php
On Websites that regularly require visitors to Login before posting or accessing Paid Content, this raw URL is usually linked behind a visible Tab Link on the site labeled 'Login'.
So when you click on 'Login', you get taken directly to the Login Form, but without seeing the http://name.com/wp-login.php URL link that took you there.
Registered User Access
Registered Users are people who have given you their username and an email address in exchange for the privilege of being a Registered User on your blog.  Unless you have a 'Register Here' Link or a Registration Form link on your website, your readers don't have Front Door access for Registering as a Registered User.
However, there is a Back Door method that people with knowledge of WordPress can use to Register on your blog to become Registered Users.  This backdoor method is only available on sites that have checked the Anyone Can Register option at their Dashboard>Settings>General Options. 

Many websites do not allow that Anyone Can Register option, and for those websites, you cannot use this backdoor method of Registering.
These backdoor people (possibly spammers in disguise) type in the following URL for the blog or website where they want to Register as a User.
www.name.com/wp-login.php?action=register.
Registering through that back door URL on a website does not give Registered Users any extra Content or Privileges unless the website has specifically said something like "if you register on my website you will get..xyz….or…whatever"
Which begs the question: Why do people bother to use that backdoor entry to Register on a website?  They still have to give a username and email address, so why not sign up to the RSS feed, or Newsletter instead?
Maybe someone who does this can tell us??? No really – I'd really like to know! I have lots of Registered Users who have done this. so please, tell me/us why you bother to do it.
I've done some research around the Forums and almost everyone says that these Back Door Registrations are Spammers looking for unlocked access-doors onto your website.
So a few weeks ago, I closed this backdoor entry point on this blog because it looked like these back door Registrations were indeed, all Spam. I did that by Un-checking the 'Anyone Can Register' check box in Dashboard>General>Anyone Can Register option.
But recently…..I installed the you-beaut Commentluv Plugin which does give extra privileges to Registered Users.
So then I had to recheck (allow) the WordPress>Dashboard>Settings>General>Anyone can register option.
After doing that, I was getting even more Registered Users signing up, because now they did have a valid reason to Register: Commentluv allows Registered Users to add a link back to one of their 10 latest articles when they post a Comment.
I didn't yet have an obvious Register Here Link on My Second Million, but I didn't think I needed one.  Why?

Because Commentluv itself is set up so that anyone who leaves a Comment here, gets a message in the Comments Section while they are Commenting, telling them that if they Register for this site, they will get these extra linking privileges.
And… Commentluv gives them a Registration Link right there in the Comments section. That link takes them to a front door Registration Form where legitimate Commenters can Register as a legitimate Registered User on this site.   
Great! …well….maybe.  It's great for the people who get the extra linking privileges by Registering, but it's not so great for the blog owner.  Why? Because the blog owner ends up with 2 separate Email lists that do not communicate in any way with each other.
One is a list of Registered Users that is stored by WordPress in Dashboard>Users.  That list is not automated, or sortable, transferable or downloadable in any way – a pain in the neck for blog owners.
The other List is a list of bone-fide Subscribers who sign up for my Newsletter using the Blue Form at the top of my right hand sidebar.  That Newsletter Subscriber List is automated and linked into my MailChimp Email Autoresponder Newsletter Software – very handy for blog owners.
For Blog owners, the big disadvantage of having these 2 separate Lists, is that these Registered Users do not get added automatically to my MailChimp Autoresponder Newsletter Email List.
If I want to add these Registered Users from my WordPress List to my automated Mailchimp Newsletter Subscriber List, I have to do it person-by-person, by hand.  And most of them are probably Spammers in disguise anyway.  What a waste of time and effort for the blog owner! So it doesn't happen.
So until a few days ago, I had 2 separate lists of email addresses:
One List of proper Subscribers, linked into my automated Email Responder software, and therefore 'manageable'.
And another separate list sitting in my WordPress Dashboard which was un-usable for the purposes of building an Email List of loyal subscribers, and probably mostly Spammers anyway.
The solution to this problem was told to me by Ana Hoffman of Traffic Generation Café – thanks again, Ana.
Not only did she tell me how to add a Register Here link, integrate and automate my Registered User WordPress List with my MailChimp automated Newsletter Email List, but also how to Secure my Site with a shiny new toy….
And….with my shiny new software toy, I can also add Paypal options at any time to all or part of my Content or Website, if (or when) I want to.  He he! Yes!
So what is this wonder-on-wheels addition to my Blog??  It's called S2Member Plugin.  It will be the subject of my next article:- how to get it; how to set it up; what it can be used for.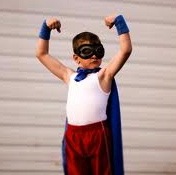 Happy days!  Now I'm fully syndicated, automated, synced up, linked up, and feeling just a little bit clever .
If you are still reading, why not Subscribe to my Newsletters and really make my day! 
Just click here: Subscribe to my Newsletters – and if you don't get a 'Please Confirm your Subscription' email in your Inbox within a few minutes, please check your Email's Spam Folder.