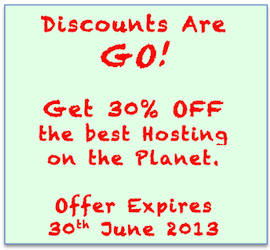 Good News, friends!  I have a special one-off, time-limited 30% Discount Coupon offer for you. So… who can benefit from this Hostgator 30% Hosting Discount Offer? That's easy!
UPDATE! The July 30% Coupon Discount expires TODAY. The new, My-Second-Million-reader-only, Code is MySecondMillion.  Type in this Code during signup to claim your 30% Discount – This coupon expires at midnight on 31st July 2013 – HURRY!

This Discount Coupon benefits anyone who has not yet started their Blog (you will need a Hosting Account), or anyone who is thinking of switching their Hosting Account from a Hosting Company other than Hostgator.  For example, Godaddy.. he he!… to a Web Hosting Company with proven reliability and a reputation for being the best Hosting and Support you can get.
For those people thinking of switching their Hosting Account, Hostgator makes website transfers really easy to do. Hostgator Support is second to none, and they will help you out within minutes if needs be. Maybe it's time to reduce your risk, sleep well at night, and switch to the famously reliable and secure Hostgator!  Just saying…..:)
Especially now that Hostgator has this Special 30% Discount Coupon that is only valid until the end of June 2013, and applies to ALL types of Hosting Accounts.
How to Cash In Your 30% Discount Coupon Offer
This 30% discount will end on 30th June 2013 so take advantage of it while it's still available.
Here's how to get your 30% Discount:  Follow these steps:
1. Click on this link: Hostgator,
2. Check out and select which sort of Hosting Account you want – I recommend Baby Croc for all bloggers (because it is totally unlimited and will allow for future expansion into your global empire of zillions of websites!)
3. During the sign up process you will be asked if you have a Coupon – well, you do!
4. Type: HG30 into the Coupon text box field.
5. Complete your billing requirements.
6. All done!  Congratulations – you now have the best Hosting Account available today – and at a 30% discount price.
Special Note for Beginners to Blogging
If you are a Beginner who is thinking of starting up a Blog, you will need to sign up to a  Website Hosting Account with one of the Website Hosting Companies.  And now is a great time to be doing it with this one-off 30% Discount Offer. Carpe deum, friends.…the clock is ticking on this Discount, your dreamed of first Blog, and life in general.
Free Bonus Lifestyle Advice is an added extra from me – totally free of charge!
There are many companies out there, all trying to entice you to sign up with them.  The costs of these Hosting services are roughly the same for all of them.
So how do you decide who you are going to trust with your precious Blog?  If you are not sure what to look for in your Website Hosting company, check out my article:  How To Choose a Good Web Host.
Basically, the essential things you require of a Host are
Total Reliability
24 hour (Fast) Access to Support
High Quality Support that has the know-how to fix your problems and get your website running smoothly again within minutes.
Hostgator has all of those things, plus a proven record over many years.
Although this is a discount off the regular price of Hosting, cost is definitely NOT the main factor when choosing which Hosting Company to sign up to.
I started out by using Hostgator myself,  because I did lots of Research and found that Hostgator was considered the best that there is.  And they have saved my bacon on several occasions, including once when I locked myself out of my own website and couldn't even log on to see what had happened – Hostgator fixed that for me in minutes.
Those more attentive readers will probably have noticed that I am urging you to cough up some hard-earned cash, here!  And it's ethical to tell you that if you sign up via my Hostgator link above, or below, or in the sidebar, I will get a commission from Hostgator.  This is called Affiliate Marketing and is one of the ways that blog owners can afford to keep their websites up and running.
Also this discount is only available through Hostgator's Affiliates (such as me) – no one who is not an Affiliate of Hostgator is eligible to offer this 30% discount to their readers.
However, I do believe that this is a great offer, and if you are thinking of starting a blog or switching your current Hosting Company, this 30% discount makes this Offer the perfect time to do it.
My '1Cent for One Month Hosting' Discount Offer is Still Available.
Of course I still have my '1cent Hosting' deal available: see Get One Month Hostgator Hosting for Only One Cent. the first month of any new account costs only one cent, after which you will either decide that Blogging is not for you – unlikely – or continue your Account at regular rates.
All Hostgator Accounts carry a money back guarantee. If you are not happy with anything about their service, or decide to close your account for any reason, Hostgator will give you a refund. Even your 1 Cent investment is refundable if you wish!
Check out Hostgator's Terms of Service to see exactly what they say before you buy. You should always, always do this for any products you buy online.  But I'm sure you will be impressed with Hostgator's Account policies and Terms of Service.
To take advantage of the 'One month for 1 Cent' deal, just click on one of my Banners or Hostgator Links and type the Code '1 Cent' into the Coupon option during sign up.
No excuses now! Go out there and blog, my friends!  With the incentive of a 30% discount on any type of Hosting account, or the equivalent of a free trial, with the 1Cent hosting coupon deal.